Academy Of Motion Picture Invites 22 Hispanics To Join Its Board Of Directors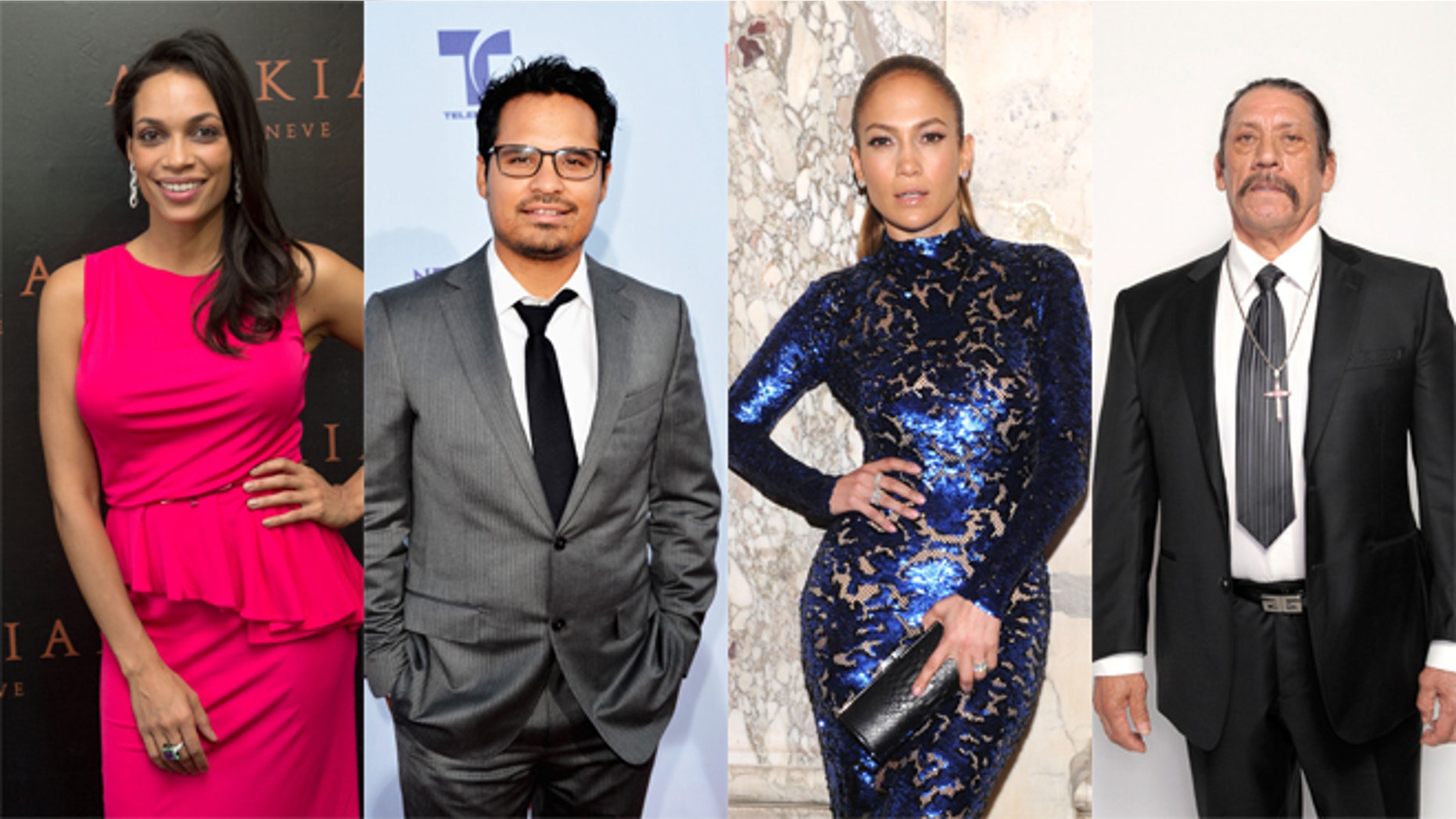 Latinos spoke, and the Academy of Motion Picture Arts and Sciences listened.
After complaints last year that the Academy, the exclusive body that selects top movies and actors of the year, did not have enough Latino representation – the group recently sent out invitations to 22 Hispanic actors and executives to urge them to join the board. About 276 invitations in total were sent out.
Hispanics Who Received Invitations:
Actors
Miriam Colon 
"City of Hope," "Scarface"
Rosario Dawson 
"Rent," "Frank Miller's Sin City"
Jennifer Lopez
"What to Expect When You're Expecting," "Selena"
Alma Martinez
"Born in East L.A.," "Under Fire"
Michael Peña
"End of Watch," "Crash"
Geno Silva 
"Mulholland Drive," "Amistad"
Danny Trejo
"Machete," "Heat"

Cinematographers
Checco Varese 
"Girl in Progress," "The Aura"

Costume Designers
Paco Delgado 
"Les Misérables," "Biutiful"

Directors
Pablo Larraín 
"No," "Tony Manero"

Documentary
Rebecca Cammisa 
"God Is the Bigger Elvis," "Which Way Home"
Eduardo Coutinho 
"As Canções," "Cabra Marcado Para Morrer (Twenty Years Later)"
Patricio Guzmán 
"Nostalgia for the Light," "The Battle of Chile"
José Padilha 
"Secrets of the Tribe," "Bus 174 (Ônibus 174)"
Renee Tajima-Pena
"Who Killed Vincent Chin?," "My America (Or Honk If You Love Buddha)"

Makeup Artists and Hairstylists
Luisa Abel
"The Dark Knight Rises," "Inception"
Kim Santantonio 
"Gangster Squad," "Frost/Nixon"

Members-at-Large
Victoria Alonso
Mindy Marin

Music
Cliff Martinez 
"Drive," "Traffic"

Sound
Jose Antonio Garcia 
"Argo," "Babel"
Edward J. Hernandez
"Real Steel," "Basic Instinct"
"This has been a transformational year for Latinos and cultural institutions in the U.S.," National Hispanic Foundation for the Arts chairman Felix Sanchez said. "I believe Dawn Hudson, AMPAS CEO, and her team are committed to an inclusive membership body and took these steps to bring modernity to their institution."
The move comes after a meeting last year involving Academy representatives and Hispanic groups that demanded more Hispanic representation in the esteemed organization.
The calls for better representation began after the late Latina actress Lupe Ontiveros was excluded from the "In Memoriam" segment – which honors prominent figures in Hollywood who have died – of the Oscars ceremony in February.
Sanchez said he called the Academy the next day to address the problem, and she was added to the "In Memoriam" section on the website within an hour.
"It didn't compensate for Lupe's omission, but it certainly showed the organization's empathy and their immediate engagement went a long way to assuage the situation," Sanchez said. "In death, Lupe Ontiveros has become an iconic image of someone who persevered and triumphed over a system that held Latino actors back from achieving their full potential."
Among the Hispanics who received invitations are actors Jennifer Lopez, Rosario Dawson, Michael Peña and Danny Trejo. Musician Cliff Martinez and director Pablo Larraín also received an invitation.
Currently, the Academy has over 6,000 members who in some way help produce the magic of Hollywood. Last year, only 176 invitations were sent to movie makers to join the Academy.
"These individuals are among the best filmmakers working in the industry today," Academy president Hawk Koch said in a statement. "Their talent and creativity have captured the imagination of audiences worldwide, and I am proud to welcome each of them to the academy."
Follow us on twitter.com/foxnewslatino
Like us at facebook.com/foxnewslatino