10 Things You Didn't Know About 'Happy Days'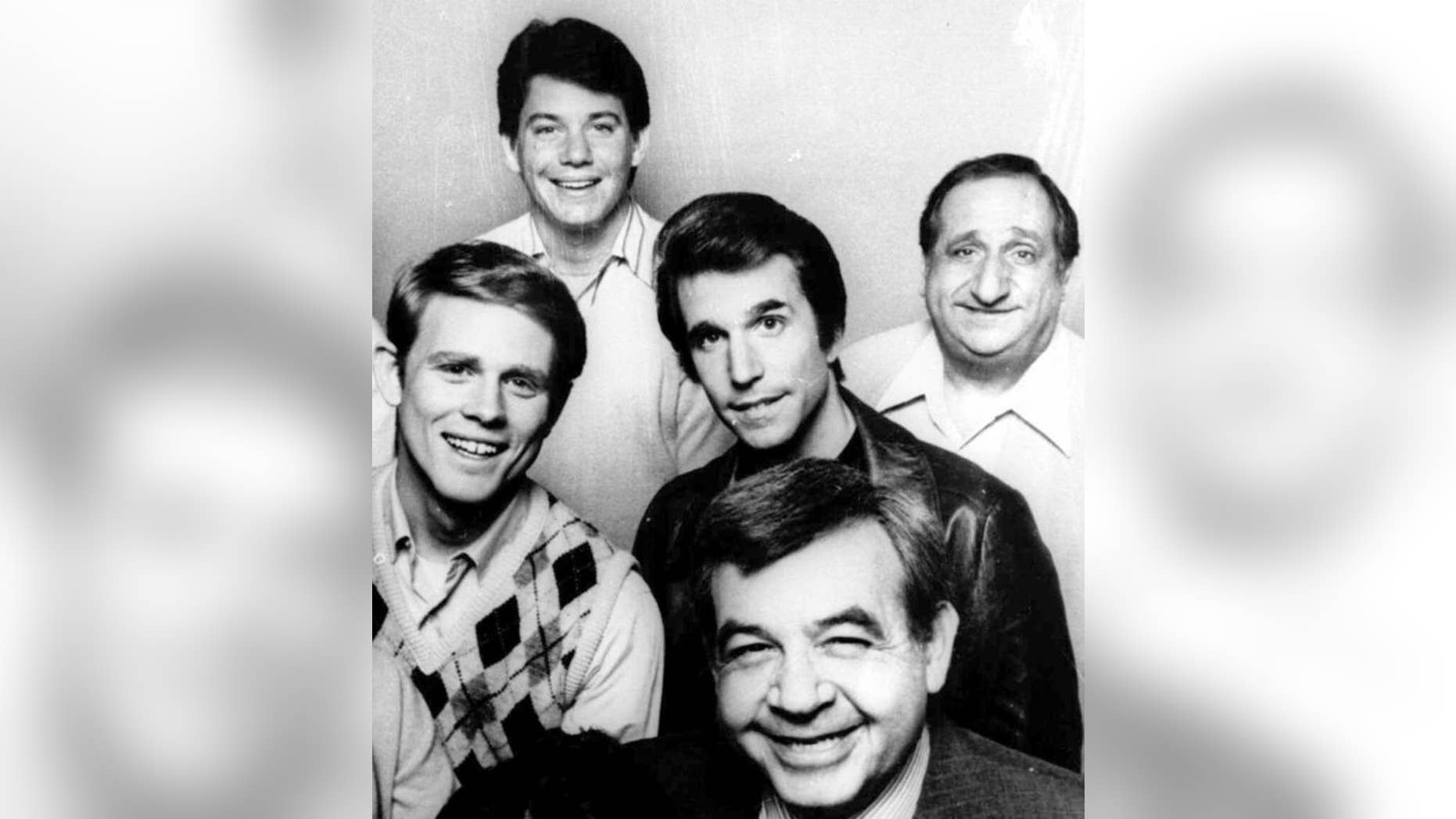 TV and film legend Garry Marshall brought "Happy Days" into our lives more than 40 years ago, and with it, he brought along a heaping helping of nostalgia for the '50s.
Characters like Richie Cunningham, Potsie, Ralph Malph and The Fonz made viewers long for the days of letter jackets, malt shops and jukeboxes — or at least the act of beating those jukeboxes senseless with their fists. And if "Happy Days" didn't make you nostalgic for the late '50s or early '60s, at least it gave you a good chuckle every week.
In celebration of this classic series and its late creator, we've decided to hunt down 10 fun "Happy Days" facts to share with our fellow fans. After all, these Happy Days are yours and mine:
#1. When "Happy Days" creator Garry Marshall first developed the series, it was initially called "Cool." That title didn't go over well with focus groups, however, and the show was soon renamed. In his book "Wake Me When It's Funny," Marshall joked that "test audiences thought ["Cool"] was about Eskimos who might have smoked."
#2. Depending on how you define a spin-off, "Happy Days" spawned between three and eight: "Laverne & Shirley," "Mork & Mindy," and "Joanie Loves Chachi" are the most widely accepted; "Blansky's Beauties" and "Out of the Blue" both starred characters who made their introduction on "Happy Days" (but due to a scheduling change, the first episode of "Out of the Blue" aired a week before its main character made his "Happy Days" debut in "Chachi Sells His Soul"); and the animated spin-offs "The Fonz and the Happy Days Gang," "Laverne & Shirley in the Army" (later renamed "Laverne & Shirley With Special Guest Star the Fonz"), and a cartoon version of "Mork & Mindy," all based around characters who first appeared on "Happy Days." Musician and actress Suzi Quatro claims she was also offered a spin-off for her character of Leather Tuscadero, which she turned down.
#3. Getting clearance for popular '50s tunes was expensive, so Anson Williams, who played Potsie, would sometimes provide the singing voice heard coming through the jukebox at Arnold's.
#4. When Fonzie made his first appearance on "Happy Days," he wore a windbreaker (below) instead of his trademark leather jacket because ABC executives thought leather made him look like a hoodlum. Series creator Gary Marshall eventually convinced them to let Fonzie wear his leather jacket in scenes that also featured his motorcycle, as it was the safer thing for the character to do. When ABC agreed, Marshall told the show's writers to put a motorcycle into every one of Fonzie's scenes from then on. And later, when the Fonz became the most popular character on the show, he was allowed to wear his leather jacket full-time.
#5. Before the decision was made to cast Henry Winkler as Arthur Fonzarelli, Mickey Dolenz of the Monkees was a front-runner for the part. "I remember my audition," Dolenz told the Washington Post in 2013. "I don't remember Henry, but Henry remembers me, and he actually has talked about it, saying he walked in an saw me there and thought, 'Oh s****! I'll never get it. Mickey Dolenz is here.'"
#6. When Robin Williams arrived to audition for the role of Mork (an alien who abducts Richie in the 1978 episode "My Favorite Orkan"), he was directed to sit down by the show's producer. He turned to face the chair and sat on his head instead, and won the role immediately.
#7. Al Molinaro reprised the role of Al Delvecchio in the 1994 music video for Weezer's "Buddy Holly," which depicts the band performing at Arnold's Drive-In. (Molinaro also gave a shout-out to his hometown during the intro, when he wrongly introduces the L.A. band as hailing from Kenosha, Wisconsin) The majority of the "Happy Days" gang can be seen in the video as well, albeit through original footage that was spliced into the mix:
#8. In 2007, a musical based on "Happy Days" opened in Burbank, California. It later ran in Connecticut and New Jersey before becoming a touring production, with performances eventually ceasing in 2010. It's now slated to tour the U.K. sometime in 2014.
#9. In 2011, cast members Anson WIlliams, Donny Most, Erin Moran and Marion Ross, along with Tom Bosley's widow, filed a lawsuit against CBS (which owns "Happy Days") and Paramount Pictures (which produced the show) for failure to pay merchandising revenues — especially those earned from "Happy Days"-themed slot machines. They were initially seeking $10 million, but the New York Post reported that each actor was awarded only $65,000.
#10. Fonzie's original 1949 Triumph Trophy TR-5 motorcycle went up for auction as part of Bonhams' Classic California collection in 2011. It was only expected to fetch somewhere between $60,000 and $80,000 (the motorcycle wasn't in working condition), but it actually didn't end up selling at all, and the bike's specs can still be obtained from the Bonhams website.