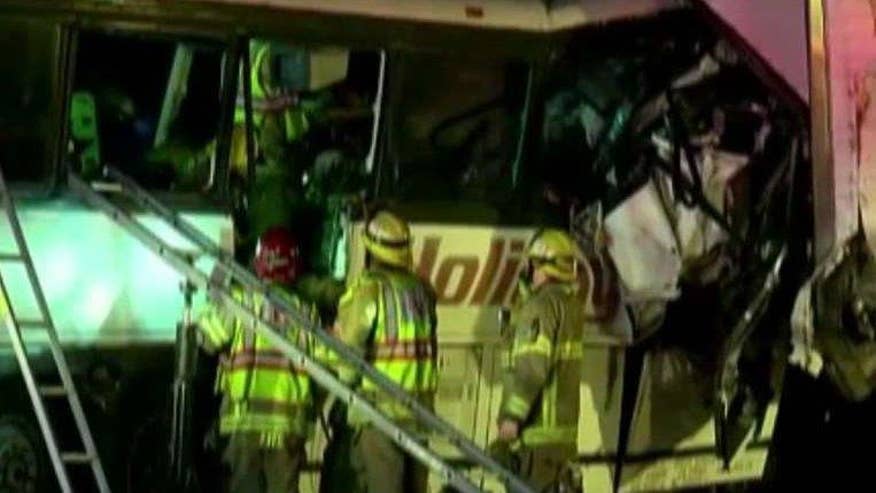 The tread on four of the eight tires on a tour bus that slammed into a truck and killed 13 people on Interstate 10 were below government standards, an official said Tuesday, though the cause of one of California's deadliest vehicle crashes remained unclear.
POLICE: TEENS IN STOLEN CAR HIT 120 MPH DURING HIGHWAY CHASE
"Based on tire conditions, this vehicle was out of compliance ... and could have been placed out of service," Earl Weener, a board member of the National Transportation Safety Board, said at a news conference in Palm Desert near the site of the Sunday crash that also injured 31 people.
The disclosure came a day after a California Highway Patrol official said there was no indication that the bus driver, Teodulo Elias Vides, applied his brakes before striking the truck that was creeping along at 5 mph because of road work in the area.
Vides, 59, owned USA Holiday and was listed as its only driver, according to federal and state records. A call to the company was not returned.
PILOT SAFE AFTER MARINE CORPS PLANE CRASHES IN CALIFORNIA DESERT
Vides had a valid commercial license and a clean record in recent years. The bus had passed annual inspections.
Records kept by the CHP show that USA Holiday had been deemed unsatisfactory on several levels in the past, though it had not received that rating since 2010, when an unnamed company driver received an "unsatisfactory" rating overall and in relation to "controlled substance and alcohol testing results," the records show.
Before 2010, USA Holiday had periodic unsatisfactory ratings for maintenance, equipment and other things.
The NTSB planned to look into the history of the bus, its owner-driver and other circumstances such as what Vides was doing during the four to five hours the bus was at the Red Earth Casino in the desert town of Thermal before making the 135-mile trip back to Los Angeles.
CHP Border Division Chief Jim Abele said Monday there was no indication the driver had applied the brakes before hitting the truck at freeway speed. It was unclear why he didn't slow down.
Vides liked to joke with customers and playfully urged them to save enough money for hamburgers, Alba Martinez, a former customer, told The Associated Press. Vides told riders in Spanish as they returned to Los Angeles at sunrise from their weekend jaunts, "We've arrived at reality."
Martinez, 43, once asked Vides why he joked with his customers and he replied: "It's so they have some fun."
Martinez's friend, Dora Galvez de Rodriguez, and Vides were among the dead. On Tuesday, the California Highway Patrol identified the 13th fatality -- 50-year-old Tony Mai of Los Angeles.
Ana Car, 61, didn't remember the sudden impact, only that she woke up in a dark bus filled with screams of terror and agony. Those who could move were pushing and shoving in the pre-dawn darkness to climb out from under each other.
She feared the images would stay in her mind for life.
The retired factory worker was sound asleep when the bus crashed.