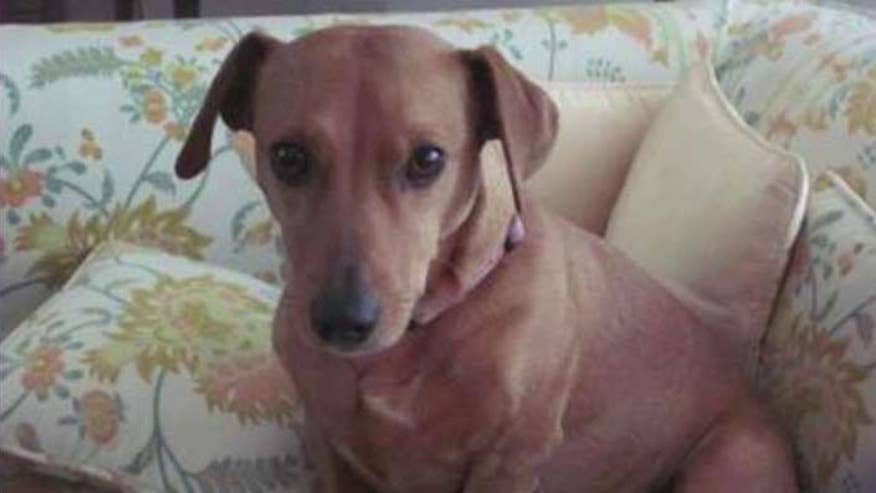 Georgia's Supreme Court tackled an unusual question Tuesday: What's the value of a dog?
Bob and Elizabeth Monyak's 8-year-old dachshund, Lola, died of kidney failure in 2013. The family accuses the Barking Hound Village kennel in the Atlanta area of giving the dog the wrong medicine, which ultimately killed Lola.
Officials at the kennel deny they did anything wrong. But they also argue that pets are property, and because the Monyaks paid nothing for Lola when they rescued her from a shelter, the dog essentially had no value, The Atlanta Journal-Constitution reports.
The Monyaks say it's pretty clear their dog wasn't worthless. They say they paid nearly $70,000 in an effort to save Lola's life, including costly dialysis and other veterinary bills, and they're hoping to recover that amount.
Speaking to the newspaper, Elizabeth Monyak said the kennel was trying to argue that "a dog is like a toaster... when you break it, you throw it away and get a new one." She went on to say, "A dog is indeed property under the law, but it's a different kind of property."
An attorney for Barking Hound Village, Joel McKie, told the Journal-Constitution, "We are certainly sympathetic to the [Monyaks] for the loss of their beloved dog, Lola."
But in court documents, the company wrote, "The purchase price of the dachshund was zero dollars, the rescue dog never generated revenue and nothing occurred during the Monyaks' ownership of the dog that would have increased her market value."
The Monyaks said that soon after picking up Lola from the kennel in June 2012, the dog had lost its appetite, which was unusual for her. They said within days, a vet diagnosed her with kidney failure and said she'd apparently overdosed on Rimadyl, a pain reliever he'd not prescribed.
Months later, after a series of treatment attempts, Lola died.
The family claims the kennel destroyed evidence its workers gave the dog the wrong medicine, then tried to cover it up, accusations Barking Hound Village denies.
But if the court orders the company to pay the family, the exact amount could be open to debate.
"Everyone knows dogs are family and more than mere property," Stephen Wells, executive director of the Animal Legal Defense Fund, said in a statement. "Courts across the nation are recognizing that beloved family members like Lola have intrinsic value -- and when they are injured or killed by negligence, that value must be reflected in the damages their families are entitled to by law."
The court was expected to issue a ruling by this summer.