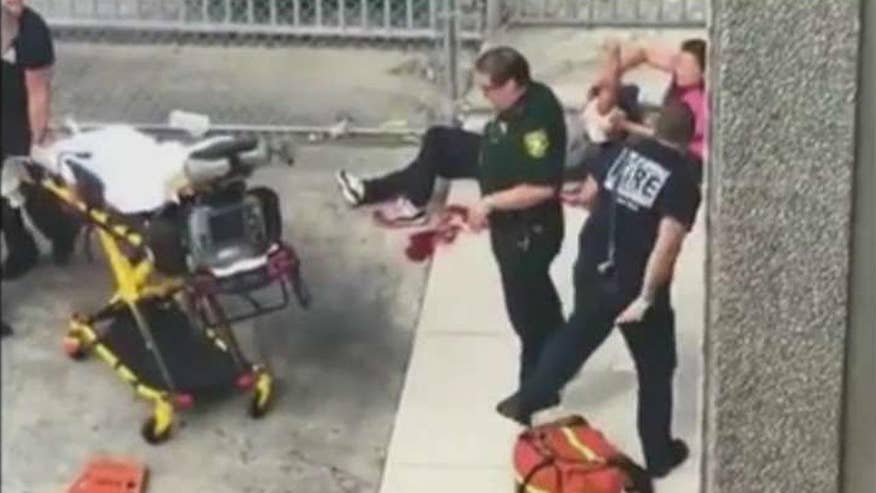 Fort Lauderdale-Hollywood International Airport has suspended all flight operations and temporarily closed after multiple people were shot Friday when a gunman opened fire at the baggage claim area.
The airport's official Twitter account advised travelers to contact their carrier directly.
All services are temporarily suspended at #FLL. Please contact your air carrier about your flight information. https://t.co/Uwbaa6n6aB

— Ft. Laude-Hlwd Int'l (@FLLFlyer) January 6, 2017
#FLL is currently closed and will be for an extended period of time. Please contact your airline about your flight https://t.co/Uwbaa6n6aB.

— Ft. Laude-Hlwd Int'l (@FLLFlyer) January 6, 2017
Several airlines, included American, United and Southwest, have tweeted their condolences and confirmed that their operations to and through the Ft. Lauderdale hub have been suspended pending further notification.
Our thoughts are with all affected at @FLLFlyer. We can confirm the incident didn't occur in our terminal. Stand by for operation updates.

— United (@united) January 6, 2017
A ground stop is currently in effect at FLL until further notice. Our Hearts are with our FLL CoHearts and extended Family.

— Southwest Airlines (@SouthwestAir) January 6, 2017
If you have a flight booked to or from FLL today, please check https://t.co/bxPRXdzWh4 for info about flight status or changing your flight.

— JetBlue Airways (@JetBlue) January 6, 2017
Our thoughts are with all those affected at #FLL. We're thankful all of our employees have been accounted for and are safe.

— American Airlines (@AmericanAir) January 6, 2017
Lisa Tiller, a communications representative for Southwest, sent the following statement to FoxNews.com:
"We're deeply saddened by today's tragic events in Broward County, South Florida, and our Heart is with the many affected. To our knowledge, no Southwest Customers were injured in today's multiple shootings in/near the Terminal 2 Baggage Claim area at Fort Lauderdale-Hollywood International Airport. Southwest operates domestic and international departures from adjacent Terminal 1, and receives some international arrivals in Terminal 4. We're in process of ensuring the well-being of all Southwest Employees."
As of 4 p.m. Friday, Southwest has canceled the remainder of its scheduled flights to and from FLL for the day. The carrier is asking any passengers or those planning to pick up or drop off travelers to check Southwest.com or call the airline for any updates.
Other airlines have announced specific guidelines for those needing to reschedule travel through Ft. Lauderdale or Miami, which is just an hour south of FLL.
January 6, 2017
On Friday afternoon, Delta Air Lines announced that travelers scheduled to depart or travel through Ft. Lauderdale or Miami International Airport would be entitled to reschedule their itineraries without penalty through select dates due to the shooting.
"Even if your flight is not canceled, you may make a one-time change to your ticket without fee if you are scheduled to travel to, from, or through the following destination(s) [Ft. Lauderdale or Miami] on Delta, Delta Connection, or Delta-coded flights during the specified time periods listed below."