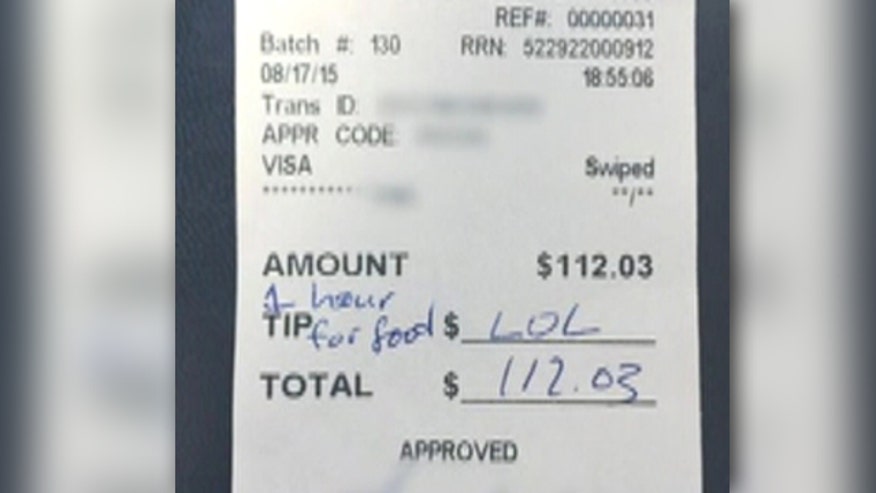 The N-word, "Horny," "Fat Girls." These are just some of the remarks that have been showing up on restaurant receipts, and it seems like we're hearing about them almost every day now.
The comments, which are put into a restaurant's computer system and can show up on the check, are often hurtful, sexually suggestive or racist.
"This type of behavior, and this case in particular, reveals a side of humanity that you thought was dead."
Last week, a Mexican restaurant in Denver got some unwanted attention after a Latino woman looked at her receipt and discovered the words "you f*cking Mexicans."
And it goes both ways. There are plenty of examples where diners have left paltry tips — or none at all — accompanied by a nasty note. This week, a waitress in New Jersey found a nasty "LOL" remark on the check after an unhappy customer said the service was too slow.
Most of these stories play out in the court of public opinion, especially on social media. But after the media attention fades, some of them have killed careers, destroyed businesses and created lawsuits.
So what's causing this rash of nastiness?
Experts say it's hard to pin down, but the rise of social media and lack of training play a large part.
"Given the age and maturity of a large portion of our labor pool, it's possible that many [servers] are not in tune with cultural sensitivity, or just write down the first thing that may pop into their head, which can create a lot of problems," says Paul Paz, a career waiter based in Oregon who founded WaitersWorld, a professional server development group. He says there could be fewer incidents with more effective staff training, but many food service jobs provide minimal training, if any at all.
Jobs in the food service industry require little experience and often are low-paying (waiters in some states can earn as little as $2.13 an hour before tips), but they demand impeccable customer service and a willingness to interact with many different types of people, all while maintaining a cheerful attitude.
"Not everyone is cut out to be a waiter," Paz said.
The National Restaurant Association has no guidelines for dealing with servers who write offensive language on receipts. A spokesman for the organization said it does not track these types of complaints, but it does have a training guide that gives servers a four-step plan for dealing with customer complaints. "Given the power of social media, it's more crucial than ever to quickly resolve any issues," the guide says.
Darden Foods, the company behind Olive Garden, and Brinker International, which operates Chili's and Maggiano's, did not respond to requests for details on how the big chains train their waiters.
But Alex Benes, executive chef and partner at Wood Ranch Barbecue Grill, which operates 15 locations in California and Virginia, said, "We think it's vital that our wait staff learn how to communicate, and we provide training to our servers about how to deal with all types of customers."
He said his servers are taught to "treat guests like gold," and to try to deal with any problems in the restaurant in order to avoid negative feedback down the line.
As for using descriptive – and often rude or offensive – words like "5 black guys" or "Asian" on receipts to identify customers, Benes says that excuse doesn't fly with him, because there's a system to identify customers that's already built in at professional kitchens.
"I don't know why any of those descriptions would be necessary," he said, "because you should use a pivot system or some other way of utilizing numbers and corresponding tables and chairs to identify customers."
It also helps avoid the scars of bad publicity and, even worse, lawsuits.
Last year, a Tennessee man sued a Red Lobster server and the chain itself for $1 million, claiming that he wrote "N*gger" on his receipt for a black waitress and it went viral, slandering his name. The case is awaiting trial.
In May, Liryca Neville, daughter of musician Cyril Neville, and three others said they were considering a lawsuit against Huck Finn's restaurant in the French Quarter of New Orleans after they noticed their check had the word "N*GGER" written on it in all caps. As of now, no legal action has been taken.
"The extent to which something can be called 'offensive' clearly depends on what's being said and how," said Stuart Shanus, a Los Angeles-based attorney with the firm Reed Smith. Shanus represented Mark McHenry, an African-American businessman in Southern California, in a 2011 federal discrimination lawsuit against the now shuttered Landmark Restaurant in Corona del Mar. (The owner said he closed the restaurant to spend more time with his family.)
McHenry had been a loyal Landmark customer until he noticed multiple receipts containing language like "McStinkyN*gger," "McNigS*it," and "McCottonwood." He was awarded an undisclosed amount for "mental anguish, embarrassment and humiliation" resulting from racial discrimination.
Shanus said a server or cashier identifying a patron by race, while possibly offensive, wouldn't be sufficient grounds to sue. But slurs, such as calling out a customer's size or making assumptions about his sexual orientation, could constitute a valid case for emotional distress.
"This type of behavior, and this case in particular, reveals a side of humanity that you thought was dead," Shanus said.
McHenry's case made national headlines even before the explosion of social media and photo-sharing websites like Instagram, where most of these cases play out today.
"Public shaming is one of the most effective tools to combat this type of behavior," said Shanus, who still gets requests to represent "rude receipt" cases. "No business owner wants to lose money over negative press, so shining a light on the problem is key."
But social media can hurt as much as help.
Paz believes the culture of semi-anonymous posting has made some diners less sensitive.
"The culture of social media has really brought out the rudeness in that people post something and don't think twice about it," he said.
"It's a diner's prerogative not to tip. But leaving an offensive note really just comes down to plain meanness."