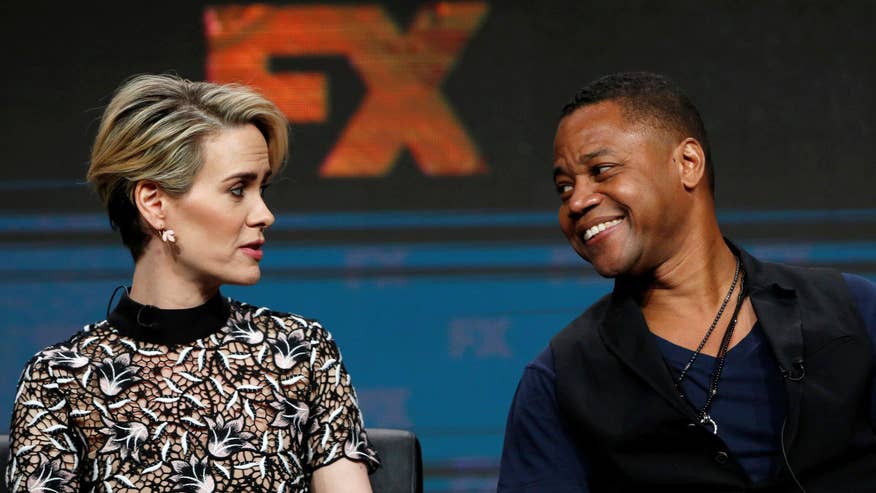 At Sunday's "American Horror Story: Roanoke" PaleyFest panel in Los Angeles, Cuba Gooding Jr. caused a stir when he lifted Sarah Paulson's dress while she stood on stage to greet a fellow cast mate.
The moment was captured on camera when Paulson got up to dramatically greet Kathy Bates. Paulson threw her arms wide open and kicked up her leg to welcome Bates.
Gooding Jr. then lifted her dress from behind. Paulson didn't seem to notice at first, but once she did she hit her skirt to push it down and let out a shriek.
Sarah Paulson introducing Kathy Bates..... name a better friendship pic.twitter.com/B8Q15b09tX

— p.c 🍒 (@90sIover) March 27, 2017
The moment seemed to be a joke on Gooding Jr.'s part but many Twitter users weren't laughing.
How would @cubagoodingjr react if a man walked up to his daughter, Piper and lifted her dress up behind her back? #itsneverok

— SallyThatTwirl (@SupremelyOne) March 27, 2017
Um... so is @cubagoodingjr allowed to get away with lifting @MsSarahPaulson skirt at @paleycenter? Total disrespect to a woman

— WinterThreds (@piratepenzan) March 27, 2017
What happened to Sarah Paulson yesterday at #PaleyFest was so disrespectful and definitely NOT OK or funny 😡😡

— Rebecca O'Keeffe (@RebeccaOkeeffe5) March 27, 2017
According to TV Guide, the cast of "American Horror Story Roanoke" laughed on stage during the panel and all seemed to be in good spirits.
Creator Ryan Murphy was not present at the panel so the chat about the series did not include hints about what is to come during Season 7.