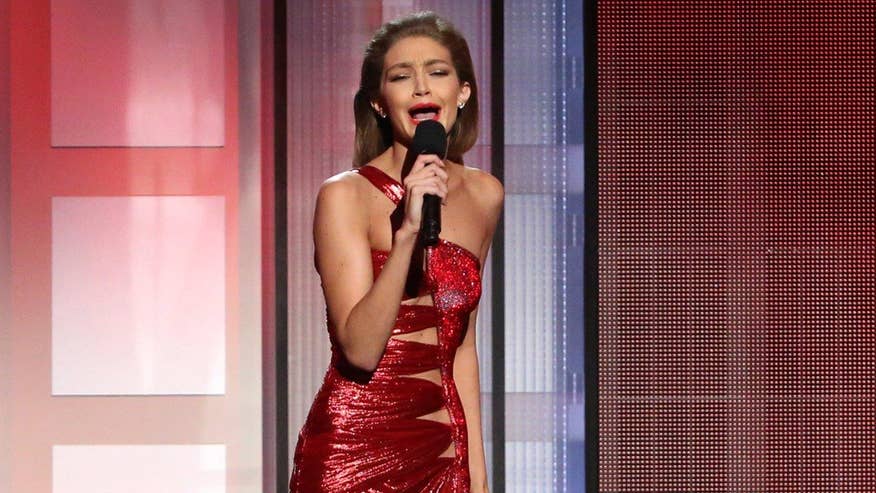 Less than two weeks after the presidential election, President-elect Donald Trump was, not surprisingly, a hot topic at the American Music Awards on Sunday night. And the insults and jokes came from all sides, including the hosts, presenters and performers.
Co-hosts Gigi Hadid and Jay Pharoah got things started right away with not-so-great impressions of Melania and Donald Trump.
PHOTOS: Stars' risque looks at the AMAs
"I love my husband, President Barack Obama and our children Sasha and Malia," Hadid said through pouted lips and a fake accent, mocking Melania's RNC speech that lifted material from a speech given by Michelle Obama.
The model added she'd been working on her impression all week and tried to "get her face right."
Hadid's co-host, former "Saturday Night Live" cast member Jay Pharoah, complimented her "spot on" impression before launching into his own impression of the President-elect.
Gigi Hadid showed the highest form of disrespect possible to the next first lady. Unforgivable! #AMAs

— Gary Moring (@GaryMolten) November 21, 2016
Lost all respect for @GiGiHadid tonight! How tasteless to mock your next president #classless #tasteless #amas #byegigi

— Nikki Baumgarten (@n_baumgarten) November 21, 2016
@TommyHilfiger @GiGiHadid Her imitation of Melania Trump was like a mean girl in high school. Disgraceful.

— Lisa Forsberg-Ley (@lisaforsbergley) November 21, 2016
@GiGiHadid @MELANIATRUMP Has class & dignity. She's a great mother, you owe her an apology for that disgusting display on #AMAs #GigiHadid

— 57States (@57States) November 21, 2016
@GiGiHadid You have ZERO class!! How dare you "mock" Melania Trump when your own PARENTS are immigrants!! Talk about a hypocrite!

— Diana (@MaidsbytheShore) November 21, 2016
Gigi Hadid made herself look like a complete mug with that Melania Trump impression. 👋🏼

— Claire Stapley (@stvpley) November 21, 2016
So, @GiGiHadid finds it OK to mock #MelaniaTrump because of her accent. Tolerant liberals at it again.

— British Deplorable (@HeyTony) November 21, 2016
More: Kanye West cancels Los Angeles concert hours after pro-Donald Trump rant
"I love Bruno Mars. I don't know what color he is, so I can't deport him," Pharoah said as Trump.
While Pharoah and Hadid's impersonations were met with laughter and applause by the audience, viewers at home were not pleased with their bit.
Award presenters Idina Menzel and Mark Cuban also took aim at the Trumps. The pair commiserated about not getting invited to the presidential inauguration, as both were supporters of Democratic presidential nominee Hillary Clinton. And Menzel gave a shout out to the cast of the Broadway show "Hamilton" who were criticized by Trump on Twitter for lecturing Vice President-elect Mike Pence at a performance.
More: Selena Gomez gets emotional at AMAs
Rock And Roll Hall of Famers Green Day also blasted Trump during the performance of their song "Bang Bang" when lead singer Billie Joe Armstrong sang a new chorus he had written especially for the festivities: "No KKK, no fascist USA, No Trump."
The Associated Press contributed to this report.