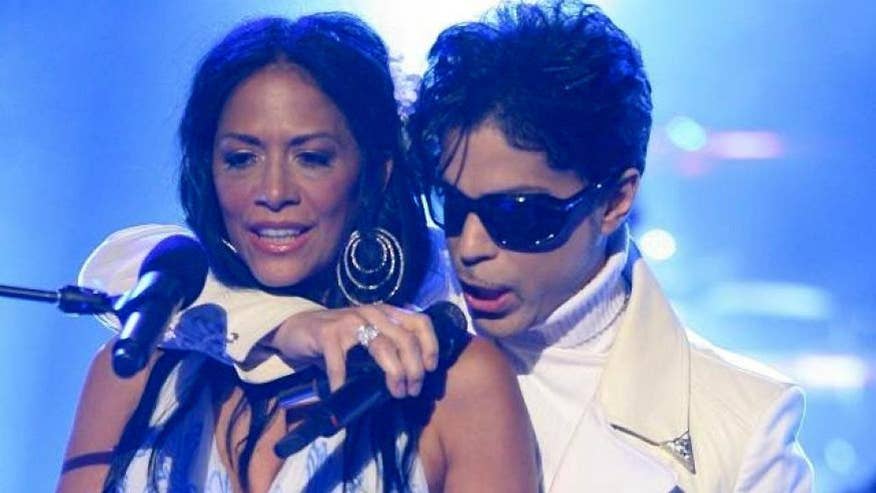 Authorities investigating the sudden death of pop star Prince are focusing on the role painkillers may have played in his premature demise, according to a published report.
Sources with knowlege of the investigation told the Minneapolis Star-Tribune painkillers may have played a role in Prince's shaky final days and subsequent death.
Prince, known for the hit songs "Purple Rain" and "When Doves Cry", among others, was found dead Thursday at his Paisley Park estate in suburban Chanhassan, Minn. He was 57.
Michael Padden, a longtime attorney for two of Prince's siblings, told the Star-Tribune that Prince's sister Lorna Nelson and brother Duane Nelson told him that Prince particularly abused the painkiller Percocet, as well as cocaine.
"Lorna told me that her brother would die young … before his time and of a heart attack," Padden told the paper. The lawyer also claimed that Prince's brother, Duane Nelson, told Padden that he paid straw buyers to obtain prescriptions, then gave them to Prince.
Lorna Nelson died in 2006 and Duane Nelson died in 2011, according to the Star-Tribune. The newspaper reports Padden has told authorities of his experiences with the family.
Many of Prince's longtime colleagues in the music business have insisted the "Let's Go Crazy" singer led a clean life. Lawyer L. Londell McMillan had known Prince for 25 years and at one time was his manager. McMillan said that while Prince may have been in pain and may have taken medication from time to time, he was "not on any drugs that would be any cause for concern."
"People use medication. The question is, are you on meds in a dangerous way?" he said."Everybody who knows Prince knows he wasn't walking around drugged up. That's foolish. No one ever saw Prince and said, 'He looks high.' It wasn't what he was about."
Former band member Sheila E. said Sunday that she had "never seen him take anything, not even aspirin, in the 38 years I've known him."
Robbie Paster, Prince's former valet and personal assistant, told the Star-Tribune that he "never knew of any opiate or cocaine problem. There's no way you can do both of those and be as driven as he was. I never saw it."
Investigative sources also told the paper that Prince had overdosed on an opiod when his private plane made an emergency landing in Moline, Ill., early on the morning of April 15.
A 7-minute recording made prior to the emergency landing and obtained by the Star-Tribune and NBC News reveals that air traffic controllers were unclear about the nature of the emergency beyond being told it was for an "unresponsive passenger." The pilot of Prince's private jet, which was en route to Minneapolis from a concert in Atlanta, clarifies the passenger is male, but says nothing else.
The Star-Tribune reported that Prince was given a shot of the opioid antidote Narcan by first responders on the tarmac. He was then taken to a local hospital, but left later that day and continued on to Minneapolis.
The Associated Press contributed to this report.