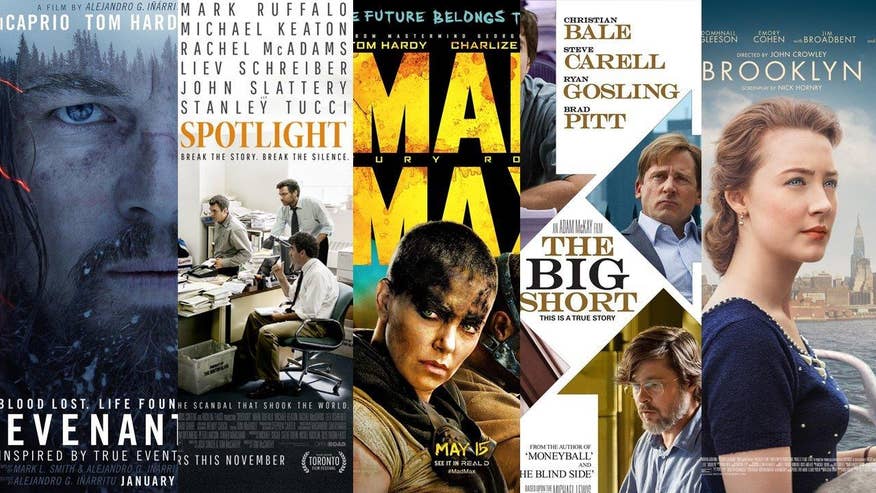 This year's Best Picture race is a bit of a toss-up.
While other Oscar categories are sure things -- LeonardoDiCaprio will win Best Actor, finally -- the question of which film willtake the night's top honor is still in debate. Maybe you've seen all of the nominated movies and have made up your mind.
WATCH: Find Out Who Got Nominated for What at the 2016 Oscars
But if you don't have time to watch all eight -- especially since some clock in at over two and a half hours (looking at you, The Revenant) -- here is a handy cheat sheet that will tell you everything you need to know about the Best Picture race.
The Big Short
Paramount Pictures
What It's About: The U.S. housing market. Seriously. It'sabout the businessmen (Christian Bale, Ryan Gosling, and Steve Carell, amongothers) who get rich off the financial crisis of 2007–2008. There's also aSelena Gomez cameo.
What It Will Win: If anything, Charles Randolph andAdam McKay will win Adapted Screenplay. McKay is a long shot for Best Director,and Bale does not stand a chance in the Supporting Actor category againstSylvester Stallone (Creed).
Was It Snubbed for Anything? No.
Talking Points:
"Did you know this was directed by the same guy who did Anchorman:The Legend of Ron Burgundy and Talladega Nights: The Ballad of RickyBobby?!"
"Any movie that can make financial stuff interestingdeserves some award."
Bridge of Spies
Walt Disney Studios
What It's About: If you couldn't tell from theposter, it's a period piece. The 1950s, specifically. Tom Hanks plays aninsurance lawyer who is asked to defend a Soviet spy in court. Then things getcomplicated.
What It Will Win: Likely, nothing. Original scorewill probably go to The Hateful Eight, while The Revenant will takemost of the technical awards. Supporting actor Mark Rylance won't be able tobeat Stallone either.
Was It Snubbed for Anything? Some were surprised thatSteven Spielberg was not nominated for Best Director or Hanks for Best Actor, butboth were stacked groups this year.
Talking Points:
"My dad loves that movie."
Brooklyn
Fox Searchlight Pictures
What It's About: A coming-of-age story about a youngwoman from Ireland (Saoirse Ronan) who finds love and a new life in, youguessed it, Brooklyn, New York.
What It Will Win: Nothing. Both Ronan, nominated forBest Actress, and Nick Hornby, for Adapted Screenplay, make great alternates,but it's a tough year.
Was It Snubbed for Anything? Perhaps in costuming andproduction design.
Talking Points:
"It's pronounced Sur-sha, like inertia."
WATCH: Here's How All the Stars Responded to Their OscarNominations!

Mad Max: Fury Road
Warner Bros. Pictures
What It's About: Where to even begin with this one?It's about Max (Tom Hardy), a survivor in some dystopian wasteland, as hebegrudgingly helps Imperator Furiosa (Charlize Theron) lead the tyrannicalImmortan Joe's wives to safety in some far-off promised land. Maybe just see itfor yourself.
What It Will Win: George Miller is the dark horse forBest Director, and one could say the same about John Seale in theCinematography category. It won't go home empty-handed though, as it willsurely collect some technical awards -- Sound Mixing? Sound Editing? Makeup andHairstyling? Sure!
Was It Snubbed for Anything? True Fury Roadfans will say it was snubbed in every category it wasn't nominated in. Theconsensus is that Theron could have been nominated for Best Actress.
Talking Points:
"There was too much debate about the feminism of the movie.It was feminist because Miller let Charlize Theron's character be a kick assaction hero. Why wouldn't we want a movie with Charlize Theron as a kick asshero? More feminist movies, please!"
"Yo, that guy who played the flame-throwing guitar wasawesome."
The Martian
ETONLINE
What It's About: Mark Watney (Matt Damon) is left fordead on Mars when the rest of his crew is forced to abort their mission. Itturns out, he actually survived and must try and stay alive until NASA can getsomeone back to rescue him.
What It Will Win: Drew Goddard has a strong, strongchance at nabbing Adapted Screenplay. Any other year, Damon would probably be afrontrunner -- unfortunately, this is DiCaprio's year. Perhaps it'll take homeVisual Effects, though?
Was It Snubbed for Anything? Jessica Chastain couldhave been landed a Supporting Actress nod, had half the nominations not gone tolead actresses (Rooney Mara and Alicia Vikander). Ridley Scott shouldhave earned one for Best Director.
Talking Points:
"Another movie where Matt Damon needs to be rescued?! Firstit was Saving Private Ryan. Then it was Interstellar. How manytimes are we just going to forget Matt Damon somewhere?"
"Which did you like better, The Martian or Interstellar?"(And then study up on this post to understand why you enjoyed The Martianmore.)

The Revenant
ETONLINE
What It's About: A fur trapper is attacked by agrizzly bear, abandoned by his men, and left for dead. Then, it's basicallyjust Leonardo DiCaprio tracking down Tom Hardy to seek revenge.
What It Will Win: As previously mentioned, DiCapriowill win Best Actor. Alejandro G. Iñárritu will likely win Best Director forthe second year in a row. Cinematography is pretty much a lock too, and wewouldn't be surprised to see costuming and makeup wins, among others.
Was It Snubbed for Anything? What could it have beensnubbed for? It was nominated for everything! Tom Hardy was reverse-snubbed, asno one expected him to make the Supporting Actor race.
Talking Points:
"If Leonardo DiCaprio doesn't win the Oscar for gettingattacked by that bear, eating raw bison liver, almost getting hypothermia in ariver, and growing that beard, then WHAT DO YOU WANT FROM HIM, ACADEMY?"
"He wasn't actually raped by a bear though."
NEWS: Kate Winslet Attending Oscars in Hopes ofSeeing Leonardo DiCaprio Finally Win: 'I Got His Back'

Room
A24 Films
What It's About: A young woman is kidnapped and heldcaptive in a shed, where she gives birth and raises her son. When he turnsfive, she decides it's time they escape back to the real world.
What It Will Win: Brie Larson will win Best Actress.Emma Donoghue has a shot at Adapted Screenplay, while Lenny Abrahamson shouldbe honored just to be nominated for Best Director. (Which isn't to say hedidn't deserve it.)
Was It Snubbed for Anything? It's a pity that JacobTremblay was not nominated for Supporting Actor. His performance isn't justimpressive for a child actor -- he's 9-years-old -- but any actor.
Talking Points:
"I have never cried more in a movie in my entire life."
"Did you know the kid in that movie has a hot dad?"
Spotlight
Open Road Films
What It's About: A team of Boston Globe reportersinvestigate the Roman Catholic Church's repeated cover-ups of priests sexuallyabusing children. If that sounds familiar, it's because it's based on trueevents and was an appropriately huge news story at the time.
What It Will Win: Original Screenplay for Josh Singerand Tom McCarthy. The latter may also be a runner-up for Best Director, whilethe supporting acting nominees -- Rachel McAdams and Mark Ruffalo -- arereaches.
Was It Snubbed for Anything? No.
Talking Points:
"I wish Rachel McAdams were in more movies."
Don't miss ET's live Academy Awards pre-show on Pop this Sunday, Feb. 28., starting at 5 p.m. ET/2 p.m. PT. Go to PopTV.com to find out where to watch.