Yemen's President Saleh Objects to Power Transfer Deal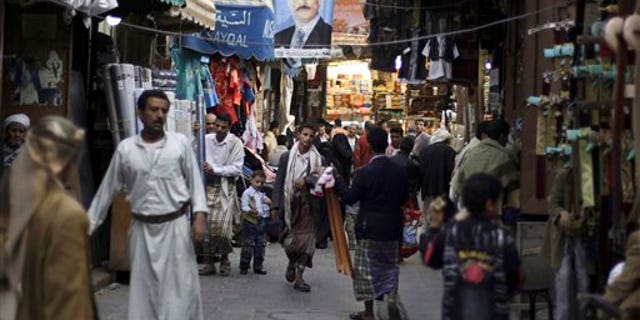 SANAA, Yemen – Yemen's embattled president is now objecting to key points of a U.S.-backed deal that calls for him to step down in return for immunity from prosecution, a member of his ruling party said Thursday.
The official said President Ali Abdullah Saleh spoke during a meeting with his top party officials in the Saudi capital Riyadh, where he is recuperating from severe burns and other wounds sustained in a June attack on his compound in Sanaa, the Yemeni capital.
The remarks reflect yet another stalling maneuver by Saleh, who has clung to power in the face of nearly six months of street protests demanding his ouster and a deteriorating economic and security situation in Yemen.
Yemen's uprising was inspired by the revolts that swept across other parts of the Arab world this year. The protests have often turned violent, with Saleh's security forces using deadly force against the protesters.
Saleh was rushed to Saudi Arabia in June for emergency medical treatment. Since he left, the country has been in limbo, with both the protesters demands and the question of who will succeed Saleh unresolved.
The power transfer deal, proposed by a Saudi-led group of Arab Gulf nations, envisages Saleh stepping down and handing power to his deputy, who would rule during until presidential and parliamentary elections take place.
The Yemeni official who attended Thursday's meeting told The Associated Press after returning back to Sanaa that Saleh is now demanding that the deal spell out the "mechanism of implementation" of the power transfer.
"This doesn't means rejecting the initiative," the official quoted Saleh as saying. He spoke on condition of anonymity because he wasn't authorized to talk to the media.
It remained unclear what Saleh meant by "mechanism of implementation."
The Yemeni opposition accuses Saleh of being deliberately vague and trying to buy more time while the country sinks into more uncertainty and chaos.
Mohammed el-Sabri, an opposition spokesman, denounced Saleh's remarks as "a new game to get around the deal."
"He doesn't want this deal in the first place but he doesn't have the courage to say that he rejects it in the face of the Americans and the Saudis," el-Sabri said.
The United States has called on Saleh to step down before negotiating an exist for himself.
After being discharged from a Saudi hospital, Saleh didn't return to Yemen. Yemeni officials said he has come under pressures from the U.S. and his Saudi hosts to remain in Riyadh because his return would likely spark a civil war.
Saleh has in the past announced he was ready to accept the Gulf Cooperation Council deal to defuse the political crisis but then backed off at the last minute.
Yemen's opposition parties and a collection of Islamist, leftists and tribal-based groups, have accepted the GCC plan but leaders of the street protests have rejected it, insisting that Saleh must step down unconditionally and be prosecuted.