Yemen's president refuses to reconsider resignation despite pressure from rebels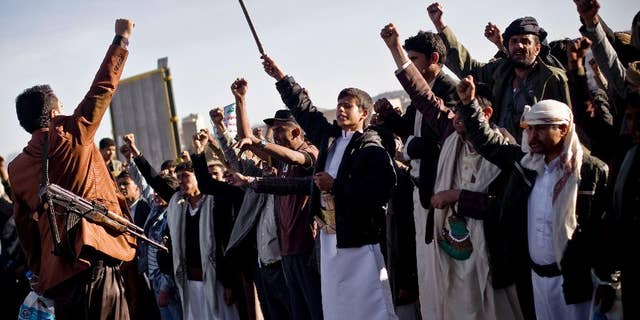 SANAA, Yemen – Yemen's president will not reconsider his resignation, despite pressure for him to do so by rebels who control the capital and who he says are holding him "at gunpoint," an official close to him said Saturday.
The refusal comes after representatives from Yemeni political parties met Abed Rabbo Mansour Hadi at his home, where the rebels, known as Houthis, continue to hold him under house arrest and are searching all visitors.
Impoverished Yemen, home to a formidable al-Qaida affiliate, has been leaderless since Hadi resigned this month after the Houthis pressured him for a greater share of power.
The Houthis, who have controlled the capital, Sanaa, since September, and their supporters have been holding a conference in a sports stadium since Friday — saying they seek to organize "a peaceful transfer of power."
The official, speaking on condition of anonymity because he was not authorized to speak to reporters, said Hadi was willing to participate in a national dialogue session — provided that it took place outside the rebel-controlled capital. He said Hadi proposed the southern city of Taiz as an alternate venue.
Also Saturday, hundreds of anti-Houthi protesters formed a human chain in the city of Dhamar that was later broken up by rebels who fired automatic rifles into the air. In a statement, the demonstrators demanded a halt to all dialogue with the Houthis until they disarm and release detained activists.
Military officials said the Houthis still control most of the capital's military installations and arms depots, and have at their disposal heavy weapons including hundreds of T-72 tanks, self-propelled artillery and Katyusha rocket launchers.
The Houthis also recently captured a Republican Guard camp outside Sanaa which had been used by American experts until 2012 to train local forces battling Yemen's al-Qaida's affiliate, which Washington considers to be its most dangerous branch.
The military officials spoke on condition of anonymity because they were not authorized to speak to the press.
Since the Houthis escalated their conflict with the embattled central government in January, demonstrators have taken to the streets in several cities to protest their power grab.