Yemen rebels fire rockets at southern city airport controlled by Saudi-backed forces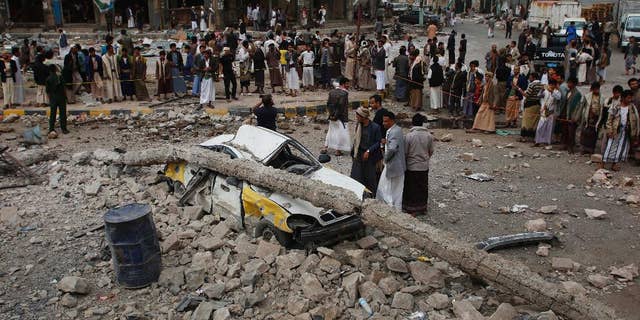 SANAA, Yemen – Fighting has intensified Thursday in Yemen's southern port city of Aden as Saudi-backed troops pushed to drive the Shiite rebels out of several neighborhoods they control, officials said. The Shiite rebels meanwhile fired rockets at the city's airport, killing at least three people.
A government official said the rebels, known as Houthis, fired Katyusha rockets that landed in the vicinity of the airport early Thursday, killing three anti-rebel fighters.
He said the Saudi-trained Yemeni troops have also taken control of the Crater neighborhood, the commercial hub of Aden that houses a presidential palace. He said armored vehicles were roaming the streets of the neighborhood, which juts into the sea, to ensure it has been cleared of rebels.
A senior military official said fighting raged in Aden's banking district for hours, and the rebels have fled while troops and local militias were searching for stragglers.
The military official spoke on condition of anonymity because he was not authorized to speak to reporters.
The Saudi-backed troops and fighters, along with Saudi-led coalition airstrikes, had pushed the rebels out of the airport Tuesday. It was at the outset of an offensive led by troops trained in Saudi Arabia and planned for over a month, the government official said, asking to speak anonymously in order to discuss the ongoing fighting.
Speaking to the Saudi-owned Al-Arabiya Al-Hadath TV, Brig. Gen. Ahmed al-Asiri, the Saudi-led coalition's spokesman, praised the "heroic efforts" of Yemeni fighters, referring to the offensive as "the Golden Arrow."
Al-Asiri said the operation has been successful so far because of "the element of surprise" and added, "We need to have patience and perseverance now."
In a statement to the Houthi-controlled Saba news agency, a spokesman said the rebels are fighting back, and are advancing in a neighborhood northwest of the airport. However, the government official said the Saudi-backed forces control about 80 percent of Aden, which has been scene of intense fighting since March.
The fighting has continued despite a U.N. negotiated truce which is due to expire Thursday, the end of the holy month of Ramadan.