World Stocks Slide on Dow Collapse, Debt Crisis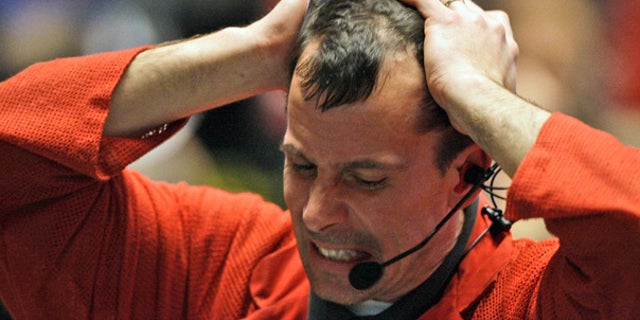 LONDON -- World markets fell sharply Friday following a huge sell-off on Wall Street and amid fears that Europe's debt crisis could spread and derail the global economic recovery.
In Britain, where investors were grappling with uncertain general election results, the FTSE 100 index was down 52.86 points, or 1 percent, at 5,208.13 following a slide in the pound.
Germany's DAX fell 58.81 points, or 1 percent, at 5,849.45 while the CAC-40 in France was 87.65 points, or 2.5 percent, lower at 3,468.46.
The falls in Europe follow big declines in Asia -- Japan's benchmark Nikkei index closed 3.1 percent down at 10,364.59.
However, some respite is expected when Wall Street traders return later, though analysts said the monthly U.S. payrolls report before the open could shift sentiment -- Dow futures were up 25 points, or 0.2 percent, at 10,482 while the broader Standard & Poor's 500 futures rose 2.8 points, or 0.3 percent, to 1,125.20.
Investors around the world have been spooked by a confluence of factors, not least the massive sell-off on Wall Street -- at one stage, the Dow Jones industrial average was in freefall, trading 1,000 points lower.
Though the collapse was blamed in part on a technical glitch -- the Dow did recover to close 3.2 percent lower and regulators said they were reviewing what had happened -- the drop fed into a prevailing fear that Greece's debt crisis was spreading to Portugal and Spain and possibly further afield. Finance ministers from the Group of Seven nations will hold an emergency teleconference later in the day to discuss the situation.
Stock markets weren't alone in seeing massive swings -- in the currency markets, the dollar was down a massive 6 yen at 88.68 yen one stage, while the euro dropped to $1.2520, its lowest level in 14 months.
"Contagion has smashed risk appetite and created panic while a 'fat finger' glitch has created mayhem in equities," said Neil Mackinnon, global macro strategist at VTB Capital.
"Caution remains the watchword especially in front of the G7 conference call where markets will be wary of support/intervention action," said Mackinnon.
The scale of the current stage in the crisis was evident in the news that the Bank of Japan was offering two trillion yen ($22 billion) in short-term loans to commercial banks to boost liquidity after the dollar had tumbled.
"We would like to ensure stability in financial markets by providing ample funds to banks," Bank of Japan official Yuichi Adachi said. He declined to elaborate further.
As if all that wasn't enough, investors, particularly in London, had to grapple with the inconclusive outcome of the British general election.
With the counting of the votes coming to an end, it's clear than no party has won enough seats to control Parliament.
"The U.K. will have a coalition government irrespective of the remaining declarations and indeed the media's political focus has long since shifted to this front," said Simon Derrick, senior currency strategist at Bank of New York Mellon.
As the results came in, the pound slid as far as $1.4599, its lowest level since early May 2009, before recovering somewhat to be trading just above $1.47.
Across Asia, stocks were hit hard even though the government debt crisis is centered on Europe -- all the main indexes ended lower with Taiwan, Indonesia, Thailand and New Zealand down sharply. China's Shanghai Composite Index closed 1.9 percent lower while Hong Kong's Hang Seng index ended around 1.1 percent down.
"Financial markets have begun to over-run policymakers' ability to implement measures to stem the crisis," said Sean Darby, a strategist with Nomura in Hong Kong. "A strong dollar and the flight to quality mean that Asian equities have also been drawn into the contagion."
Oil markets were also oscillating wildly -- benchmark crude for June delivery was up 32 cents to $77.43 a barrel in electronic trading on the New York Mercantile Exchange. That modest rise follows the $2.86 slide on Thursday.