WikiLeaks founder Assange says he'll leave Ecuadorian embassy 'soon'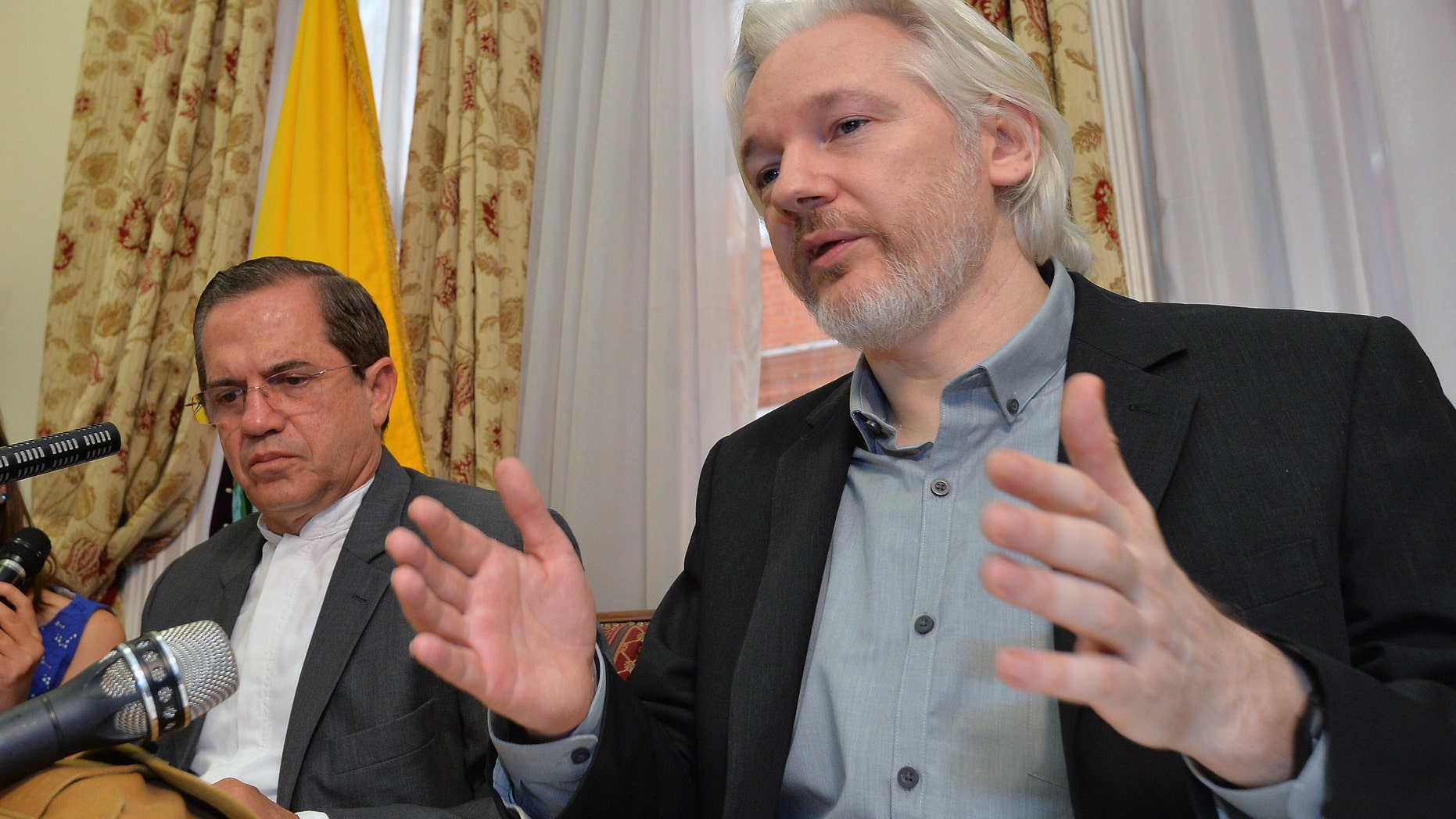 WikiLeaks founder Julian Assange told reporters Monday he will leave the Ecuadorian Embassy in London where he sought refuge two years ago "soon," but his spokesman later clarified that wouldn't happen unless his extradition issues are resolved.
Assange, 43, made the surprise comments during a press conference at the embassy in London, following a meeting with Ricardo Patino, Ecuador's foreign minister. When asked about speculation that the Australian was ready to leave the embassy to seek medical treatment, Assange declined to answer directly, instead pointing to Kristinn Hrafnsson, the WikiLeaks spokesman, who was in the back of the room.
"He said I can confirm that I am leaving the embassy soon, but perhaps not for the reasons that (news media) are saying," Assange said, but refused to elaborate on his confusing statement.
Assange is seeking to avoid extradition to Sweden, where he is wanted over sex crimes allegations, or the U.S., where authorities are investigating his involvement in one of the largest information leaks in U.S. history.
Hrafnsson told reporters that what Assange meant to convey was that he was ready to leave the embassy as soon as the British government gave him the guarantees he was seeking, namely the right to travel freely to Ecuador where he has asylum.
"The plan is to leave as soon as the U.K. government decides to honor its obligations," Hrafnsson said, repeating Assange's long-held position.
Hrafnsson played down the chances of an imminent departure, saying the British government would first need to revise its position and allow him leave without arrest, which it has repeatedly refused to do.  Assange had no intention of handing himself over to the police, Hrafnsson added.
In response to a question about his health, Assange complained about the embassy's cramped quarters.
"Being detained in various ways in this country without charge for four years and in this embassy for two years which has no outside area, therefore no sunlight… it is an environment in which any healthy person would find themselves soon enough with certain difficulties," Sky News reported Assange said.
Leaving the embassy would be a big move for Assange, who has remained trapped in the building since fleeing there in June 2012. He denies the sex assault and rape allegations he's facing in Sweden.
Britain signaled it would still arrest Assange for breaching his British bail terms if he attempts to leave, Reuters reported. British police have maintained a round-the-clock presence outside the embassy in London's Knightsbridge area.
Britain's Foreign Office told Reuters it remained committed to reaching a diplomatic solution to the problem, but reiterated that Assange still needed to be extradited.  "As ever we look to Ecuador to help bring this difficult, and costly, situation to an end," a spokeswoman said.
Patino said Monday negotiations between Ecuador and the U.K. remain deadlocked.
WikiLeaks began releasing thousands of confidential U.S. documents on the Internet in 2010. The breach embarrassed the U.S., and some critics say it put national security and people's lives at risk.
The Associated Press contributed to this report.