Vigilante ranchers, fruit growers kick out brutal drug cartel in western Mexican state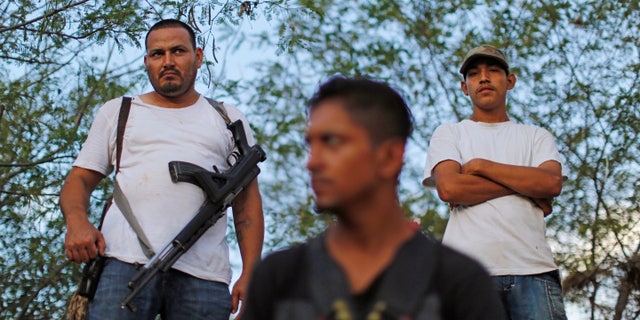 TEPALCATEPEC, Mexico – For lime grower Hipolito Mora, it was time to organize and pick up arms when a packing company controlled by a brutal drug cartel refused to buy his fruit. For Bishop Miguel Patino Velazquez, it was seeing civilians forced to fight back with their own guns that made him speak out. For Leticia, a lime picker too afraid of retribution to give her last name, it was the day she saw a taxi driver kidnapped in front of his two young children that convinced her to join those taking the law into their own hands.
In Mexico they call it "the drop that makes the glass overflow," and it came at different points for the people living for years under the brutal Knights Templar in the western Valley of Apatzingan, an emerald green tapestry of orchards bordered by blue-gray peaks.
"We lived in bondage, threatened by organized crime," said Leticia, 40, who ekes out a living picking fruit and selling chicken on the side. "They wanted to treat people like animals."
Eight months after locals formed self-defense groups, they say they are free of the cartel in six municipalities of the Tierra Caliente, or "Hot Land," which earned its moniker for the scorching weather but whose name has also come to signify criminal activity. What's more, the self-defense group leaders, who are clearly breaking Mexican law by picking up military-style arms to fight criminals, say the federal government is no longer arresting them, but recruiting them to help federal forces identify cartel members.
The Mexican government, which has been fighting cartels in Michoacan for years with little to show for it has reached its limit as well: an Oct. 27 attack by alleged cartel agents on power distribution plants and electrical sub-stations in 14 towns and cities that were intended to terrorize the public. At least 400,000 people were left in the dark.
Attorney General Jesus Murillo Karam arrived by helicopter to the ranch town of Tepalcatepec two days later to meet with self-defense group leaders and pledge the government's help.
"The attorney general came with two army generals to speak to me and said 'We've come to help. What do you want us to do?'" said Dr. Jose Manuel Mireles, self-defense group leader in Tepacaltepec, speaking over breakfast in a grove of fat mango trees, his two-way radio crackling with movements of his patrols.
He said the government promised operations in major cities around the state. Federal security spokesman Eduardo Sanchez did not respond to several requests for comment about the government's cooperation.
On Monday, military and federal police moved into the Michoacan port of Lazaro Cardenas, a major source of cartel income due to the trafficking of drugs and precursor chemicals, as well as extortion. They dismissed 113 local police and took over security. About 40 officers were bused to Mexico City for questioning into rumors of corruption, according to one security official who wasn't authorized to speak on the record.
On Thursday, the army arrested the entire 25-officer police force of Vista Hermosa, also in northern Michoacan, a violent area where the Knights Templar are battling the New Generation, a cartel in neighboring Jalisco state.
The self-defense groups started small with just a few dozen civilians from two communities: lime pickers, ranchers and business owners who began patrolling the streets, setting up roadblocks and ambushing the Knights Templar as the drug men roamed with their heavy artillery and grand SUVs. The ragtag groups now claim several thousand members in a valley of more than 300,000 people, competing with the cartel in raw numbers if not firepower.
Despite some success in the six municipalities of Tierra Caliente, the cartel continues to enforce a stranglehold on other parts of Michoacan, a rich farming state that is a major exporter of lime, avocado and mango. Reports of violence continue almost daily.
While cartels terrorized communities all over Mexico, many say Michoacan is a case unto itself. The region has long tolerated marijuana and poppy growers, and corruption and organized crime have permeated the social, political and economic fabric of the region for years.
"Michoacan has all the characteristics of a failed state," Patino, the bishop of Apatzingan, wrote last month in an unusually candid letter naming the Knights Templar and other cartels. "Municipal governments and police are in the service or colluding with criminals and the rumor continues to grow that the state government is also in the service of organized crime,"
The archdiocese this week denied reports that the clergyman was threatened for speaking out and is in protective custody, saying he is at a pastoral retreat.
Rumors circulate that some self-defense groups have been infiltrated by the New Generation cartel, charges the groups vehemently deny. A rebel band of former Knights Templar, curiously nicknamed "Los Viagra," have also tried to use self-defense groups as cover for illegal activities, according to residents.
Self-defense leaders say they are simply ordinary citizens trying to defend themselves against unending violence because the state has proved unable to do it for them.
Mireles, the self-defense group leader, says the big trouble began 12 years ago, when the local community unwisely made a deal with a local cartel known as La Familia to oust upstarts from an even more brutal cartel, the nationally powerful Zetas. When La Familia fell apart under heavy attack from the government of former President Felipe Calderon, the faction that was left took up the name Knights Templar. Initially, the gang told people it wouldn't bother them. But then the cartel realized it could make more money from extorting local businesses than it could from selling drugs.
"They were very ambitious," said Mora, who leads the self-defense group in La Ruana. "And that was their mistake, getting involved with civilians, with honest employment. They started step-by-step to take over all of the farm production."
Earlier this year, the people had had enough, and that's when they formed the self-defense groups. Leaders say they plan to continue their attacks on the cartel in other cities, despite being stopped by the military on Oct. 26 when they tried to take over Apatzingan.
They negotiated a peaceful march, unarmed, with the protection of the military. As some 3,000 entered the square, sharpshooters believed to be from the Knights Templar opened fire on the crowd from a church tower and city hall, where municipal police were standing watch. Several were injured.
Now the self-defense groups say they are working to help federal forces identify criminals in the city, and their joint efforts resulted Monday in the capture of Leopoldo Jaimes Valladares, a mid-level cartel dealer believed to control the extortion of businesses in the central lime market.
In the Valley of Apatzingan, daily life continues, under the watch of military helicopters and around sandbags marking dozens of checkpoints, some by soldiers and others by self-defense groups. Fruit trucks rumble by in the heat, and school children practice their civic marches, the sounds of drumming and brass filling the dusty streets.
Outside of Apatzingan, men roam with hunting and semi-automatic assault rifles.
It's a fragile peace.