Video showing apparent poisoning of Kim Jong Un's half-brother surfaces
The first video footage showing the apparent poisoning of the North Korean dictator Kim Jong Un's half-brother emerged Monday, showing a woman rush up to the man from behind, before holding something over his mouth.
SENIOR NORTH KOREA REPS REPORTEDLY PREPARE TO COME TO UNITED STATES FOR TALKS
The security camera footage, obtained by a Japanese TV network, was often grainy and blurred. It also appeared to show a second women approaching Kim Jong Nam from a different direction before the attack at an airport in Malaysia.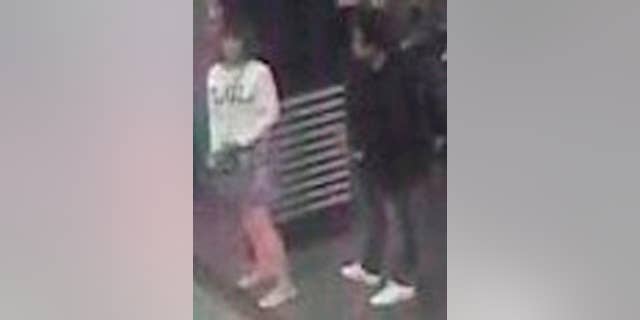 After the first woman held something over the man's mouth for a few seconds, both women turned and calmly walked off in different directions.
WAS IT BROTHER? LOVER? OR CRIME GANG? NORTH KOREA RUMORS ABOUND
More footage showed Kim, a long-estranged relative in North Korea's ruling family, walking up to Kuala Lumpur airport workers and security officials, gesturing at his eyes and seemingly asking for help. He then walked alongside as they led him to the airport clinic. He had been standing at a ticketing kiosk in the budget terminal.
Fuji TV has not revealed how it acquired the video footage, which was captured last week by a series of security cameras as Kim arrived for a flight to Macau, where he had a home.
One of the women later claimed she was duped into thinking it was part of a TV prank show, Indonesian police said. The other woman was spotted later wearing a shirt emblazoned with the letters "LOL."
Meantime, North Korea demanded to see the suspects, claiming Malaysia's investigation could not be trusted, Sky News reported.
North Korea's top envoy in Kuala Lumpur, Ambassador Kang Chol, said the investigation was politically motivated. Malaysia recalled its ambassador to Pyongyang over what it called "baseless" accusations.
The rogue nation also demanded custody of Kim's body and strongly objected to an autopsy. The Malaysians still went ahead; an official with knowledge of the investigation told The Associated Press they conducted a second autopsy because the first was inconclusive, though police denied that. The official spoke on condition of anonymity because he was not authorized to speak to the media.
Malaysian authorities said they were simply following procedures, but Kang questioned their motives.
"The investigation by the Malaysian police is not for the clarification of the cause of the death and search for the suspect, but it is out of the political aim," he told reporters Monday. He referred to the dead man as "Kim Chol," the name on the passport found with Kim Jong Nam.
Police had "pinned the suspicion on us," Kang said, calling on Malaysia to work with North Korea on a joint investigation.
Malaysian Prime Minister Najib Razak told reporters later Monday he had "absolute confidence" that police and doctors have been "very objective" in their work. Najib said Malaysia had no reason to "paint the North Koreans in a bad light" but added, "We expect them to understand that we apply the rule of law in Malaysia."
Kang previously said Malaysia may be "trying to conceal something."
Police investigating the killing have so far arrested four people carrying identity documents from North Korea, Malaysia, Indonesia and Vietnam, including the two women seen in the video. According to police, the Indonesian woman is a spa masseuse and the Malaysian man, a caterer, is believed to be her boyfriend. The Vietnamese woman works at an entertainment outlet and the North Korean man works in the information technology department of a Malaysian company.
Kim, in his mid-40s, died shortly after the attack, en route to a hospital after suffering a seizure, Malaysian officials said. Malaysia's deputy national police chief, Noor Rashid Ibrahim, said Sunday Kim had told airport customer service workers that "two unidentified women had swabbed or had wiped his face with a liquid and that he felt dizzy."
Investigators were still looking for four North Korean men who arrived in Malaysia on different days beginning Jan. 31 and flew out the same day as the attack.
The four suspects, who range in age from their early 30s to late 50s, were traveling on regular -- not diplomatic -- passports, Noor Rashid said.
Indonesian officials said three of those men traveled through Jakarta's Soekarno-Hatta International Airport after the apparent assassination, leaving on a 10:20 p.m. flight to Dubai. That was about 12 hours after the attack on Kim Jong Nam.
Dubai police and the Dubai government media office did not immediately respond to requests for comment. State-owned airline Emirates declined to comment, citing policies on passenger confidentiality.
Police said they also wanted to question three other people. Noor Rashid said one was North Korean, but that police had not yet identified the other two. It was not clear if they were suspects or simply wanted for questioning.
Autopsy results on Kim Jong Nam could be released as early as Wednesday, said Health Minister S. Subramaniam.
Investigators also said they wanted to speak to Kim Jong Nam's next of kin to formally identify the body. He was believed to have two sons and a daughter with two women living in Beijing and Macau.
"We haven't met the next of kin," Noor Rashid said. "We are trying very hard to get the next of kin to come and to assist us in the investigation."
He also said prosecutors would determine charges against the four suspects in custody.
The Associated Press contributed to this report.