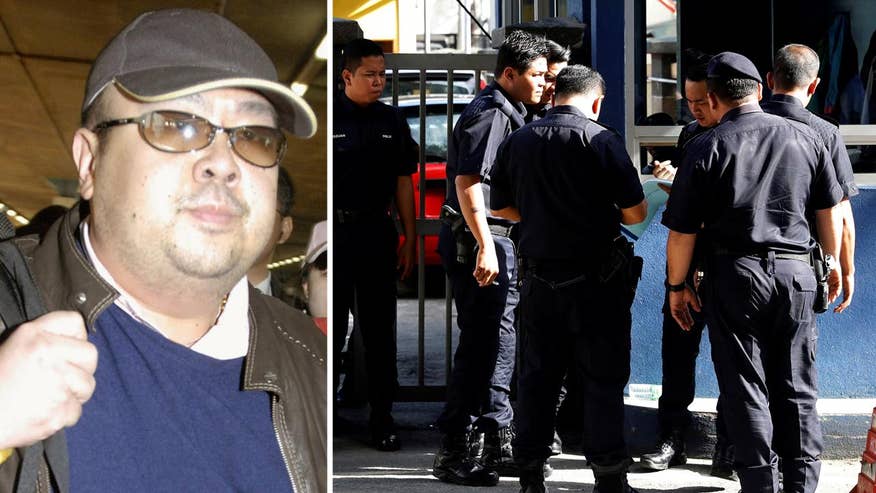 One of the women busted on charges of helping murder North Korean dictator Kim Jong Un's half-brother claimed she was duped into thinking she was part of a comedy show prank, Indonesia's police chief said Friday.
Siti Aisyah, 25, of Indonesia, was paid to spray unsuspecting men with water, according to the police chief, Tito Karnavian. He said that as part of the ruse, she and another woman convinced men to close their eyes before dousing them in the face.
"Such an action was done three or four times and they were given a few dollars for it, and with the last target, Kim Jong Nam, allegedly there were dangerous materials in the sprayer," Karnavian said.
The police compared the pranks to a popular hidden-camera show, "Just For Laughs." A second woman arrested was spotted on security footage wearing a shirt that read "LOL" on the front.
Karnavian added that Aisyah "was not aware that it was an assassination attempt by alleged foreign agents."
The police chief's comments come after a relative of Aisyah said in an Indonesian television interview that the suspect had been hired to perform in a comedy movie that had her traveling to China.
Indonesian immigration officials have said Aisyah traveled to Malaysia and other countries, but they did not get into specifics.
Kim Jong Nam, elder half-brother of North Korean leader Kim Jong Un, died Monday after falling ill at the airport in Kuala Lumpur.
South Korea has accused its enemies in North Korea of dispatching a hit squad to kill Kim Jong Nam, saying two female assassins poisoned him before escaping in a taxi.
The second woman who was arrested carried a Vietnamese passport, according to police, who also arrested Aisyah's boyfriend.
Authorities are waiting for autopsy results that could shed light on why Kim Jong Nam suddenly fell ill while waiting for a flight home to Macau.
AS INVESTIGATION SWIRLS, BODY OF KIM JONG UN'S HALF-BROTHER IS UNCLAIMED
Dizzy and in pain, he told medical workers at the airport he had been sprayed with a chemical. Within two hours, Malaysian officials said, he was dead.
Kim Jong Nam, who was 45 or 46, had lived in exile for years and was estranged from his younger half-brother. He reportedly fell out of favor with the North Korean regime in 2001, when he was caught trying to enter Japan on a false passport to visit Tokyo Disneyland.
Although Kim Jong Nam was believed to have two sons and a daughter with two women living in Beijing and Macau, police in Malaysia say nobody has come forward to claim the body or provide DNA samples in the aftermath of what appeared to be an assassination.
North Korean diplomats in Malaysia have requested custody of Kim Jong Nam's body, arguing that he had a North Korean passport. The officials objected to an autopsy, but Malaysian authorities went ahead with the procedure anyway because they did not receive a formal complaint.
DID A SOUTH KOREAN NEWS REPORT DOOM KIM JONG UN'S BROTHER?
Investigators were still trying to piece together details of the case, and South Korea has not said how it concluded that North Korea was behind the killing.
In Indonesia, Aisyah's family and former neighbors said they were stunned by her arrest, describing her as a polite and quiet young mother.
From 2008 to 2011 she and her then-husband lived in a home with flaking red paint in a narrow alley of Tambora, a densely populated neighborhood in western Jakarta.
Her former father-in-law, Tjia Liang Kiong, who lives in a nearby middle-class neighborhood and last saw Aisyah on Jan. 28, described her as respectful.
"I was shocked to hear that she was arrested for murdering someone," he said. "I don't believe that she would commit such a crime or what the media says — that she is an intelligence agent."
Aisyah's mother, Benah, said by telephone that the family comes from a humble village background and has no ability to help her.
"Since we heard that from the television, I could not sleep and eat. Same as her father, he just prays and reads the holy Quran. He even does not want to speak," said Benah. "As villagers, we could only pray."
According to Kiong, Aisyah only completed junior high school and moved to Malaysia with her husband in 2011 to seek a better life after the garment-making shop they ran from their home went out of business. The couple left their nearly 2-year-old son in Jakarta under the care of Kiong and his wife.
She and her husband divorced in 2012.
Malaysia, which is approaching developed-nation income levels, is a magnet for millions of Indonesians, who typically find work there as bar hostesses, maids and construction and plantation workers.
Malaysia said Friday it wants DNA samples from Kim Jong Nam's family as part of the post-mortem procedure and that officials were not yet willing to hand the body over to the North Koreans.
"If there is no claim by next-of-kin and upon exhausting all avenues (to obtain DNA), we will finally then hand over the body to the (North Korean) embassy," said Abdul Samah Mat, a senior Malaysian police official.
He would not speculate on how long that process might take.
The three suspects were arrested separately on Wednesday and Thursday.
The women were identified using surveillance videos from the airport, police said. Early Friday, police took the pair back to the crime scene at the budget terminal "for further investigations," Abdul Samah said. Local media reported that police wanted to recreate the crime scene to establish new leads.
The Associated Press contributed to this report.