Venezuela's VP granted unprecedented powers, fueling rumors of succession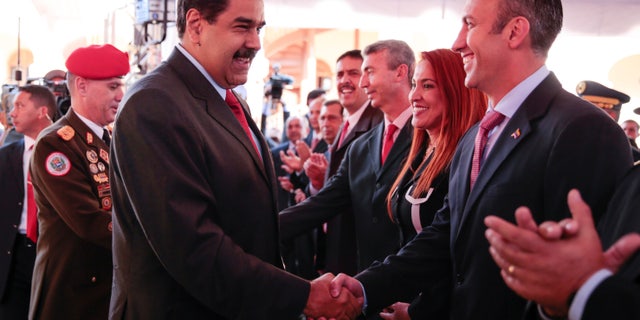 NEWYou can now listen to Fox News articles!
Venezuelan President Nicolás Maduro has granted his newly appointed vice president, Tareck El Aissami, unprecedented powers that include the approval of all ministries' budgets, the appointment of vice ministers and full discretion to manage the expropriation of private businesses.
NEW 'ANTI-COUP SQUAD' IN VENEZUELA MONITORS, HUNTS OPPONENTS PERCEIVED AS RISK
The decree, made public Monday through the official gazette, states that the transfer of powers to El Assaimi, a self-professed radical Chavista, is aimed at "expediting the processing of certain matters.

Opposition leader Jesús Torrealba said Tuesday the decision represents a "progressive empowerment" of El Aissami, looking to gradually transform him into a "possible presidential candidate" of the socialist ruling party.
According to the constitution, if the president leaves office for any reason after three years in office (halfway through his term), the remainder of his term must be completed by the vice president.
Maduro started the second half of his term on January 10.
"MOTHER ASKS TRUMP TO HELP FREE SON JAILED IN VENEZUELA
The son of a Lebanese mother and a Syrian father, the 42-year-old El Aissami is also one of the most obscure figures in government circles. He has been suspected of having ties to the Islamist militant group Hezbollah and is reportedly being investigated by U.S. prosecutors for possible involvement in drug trafficking.