Venezuela's opposition angry after vote to recall Maduro set for next year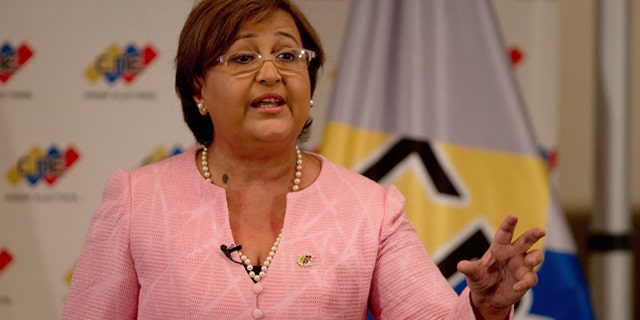 NEWYou can now listen to Fox News articles!
CARACAS, Venezuela (AP) – Electoral officials on Tuesday set a timetable for a recall drive against President Nicolás Maduro that makes it unlikely Venezuela will have an early presidential election that could put the opposition in power.
National Elections Council President Tibisay Lucena said critics of the socialist administration will probably be authorized in late October to try to collect petition signatures from the 20 percent of the country's voters, or 4 million people, needed to force a recall.
Election officials would then have 29 days to confirm the signatures and then 90 days to hold a referendum. That means the vote to recall Maduro probably would not happen until January or February, although there would be a small chance for it to be held in December.
The timing is crucial. A successful recall vote this year would trigger a presidential election that the opposition would likely win. But an opposition victory in a recall referendum next year would result only in the government's vice president replacing Maduro until his term ends in early 2019.
Maduro has consistently said the recall will not happen this year. With Venezuela's economy projected to contract 8 percent this year after a 5.7 percent fall in 2015, polls indicate the government would lose badly.
Election officials already stretched out the first phase of the recall effort — collecting signatures from 1 percent of voters to authorize the second petition drive — into a months-long ordeal.
The government is pursuing a strategy of dragging its feet while stopping short of actually denying the recall effort, said Risa Grais-Targow, an analyst at the Washington-based Eurasia Group.
"The government is concerned about increasingly tense social dynamics and rising international pressure, so it will continue to do the bare minimum to move the process forward, rather than halt it outright," Grais-Targow wrote in a research note this month.
Tuesday's announcement was sure to ratchet up tensions in the already hyper-polarized country. The opposition responded that there is still plenty of time for the recall vote to happen in 2016.
Opposition leader Henrique Capriles, who would have a good shot at winning a presidential election if it were scheduled this year, warned that the October timeline could push an increasingly desperate country to the breaking point. He is calling for a major protest on Sept. 1.
"The elections officials know that closing the tiny window of democratic change that we still have puts the country in a very dangerous place," Capriles said at a news conference. "They know that they have to obey the constitution."