Venezuelan military to take over distribution of medical and surgical supplies amid shortages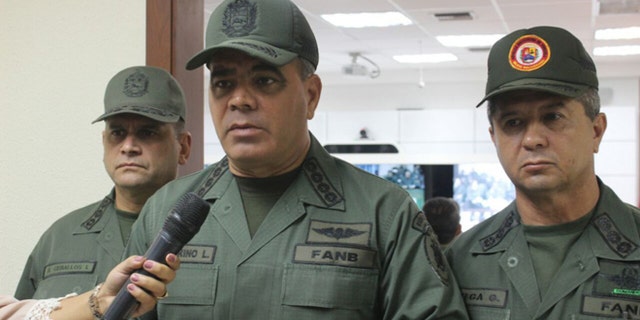 NEWYou can now listen to Fox News articles!
As Venezuelans struggle with widespread shortages in everything from basic food stuffs to toilet paper, the socialist nation's defense minister announced on Wednesday that the military will take control of the distribution of "all medical and surgical supplies managed in all hospitals."
Venezuelan Minister of Defense Vladimir Padrino López said during an address broadcast on state-owned Venezolana de Televisión that the National Bolivarian Armed Forces of Venezuela will take control of the medical supply sector "to guarantee that these medicines and supplies get to the patient efficiently and are neatly distributed and assigned."
One in three people admitted to public hospitals last year died, the government reports. The number of operational hospital beds has fallen by 40 percent since just 2014. And as the economy fails, the country is running short on 85 percent of medicine, according to the national drugstore trade group.
Everything from common painkillers to cancer and HIV drugs have become almost impossible to find across the country and some doctors have resorted to using veterinary medications in lieu of human ones — according to the Pharmaceutical Federation.
Venezuela used to be Latin America's richest country, but it is now falling apart because of a plunge in the price of oil caps and years of economic mismanagement. Local production of almost everything has stalled, and there is little money to import medicine.
The left-wing administration of President Nicolás Maduro calls the medical crisis an invention peddled by opponents of the country's 17-year-old socialist revolution. The government has refused to let in humanitarian aid.
While Venezuela's opposition-controlled National Assembly in May approved a bill to declare a national humanitarian health crisis that would force the Maduro government to accept foreign medical aid, so far the donations of medical supplies have sat in warehouses and shipping containers in countries including the U.S., Spain and Panama.
So the military decided to step in.
"We are evaluating the health issue. We will go very strongly on the issue of health," Defense Minister López said, according to UPI. "We are going to take full control of the distribution of medicines and medical surgical supplies to all hospitals in the country."
Besides the medicine and food shortages, Venezuela is also seeing a drastic rise in violent crime, especially in the capital city of Caracas. Rolling blackouts and widespread protests that often turn bloody have created a city, and country, in mayhem.
The Associated Press contributed to this report.