Venezuela to expel 3 journalists planning to cover opposition march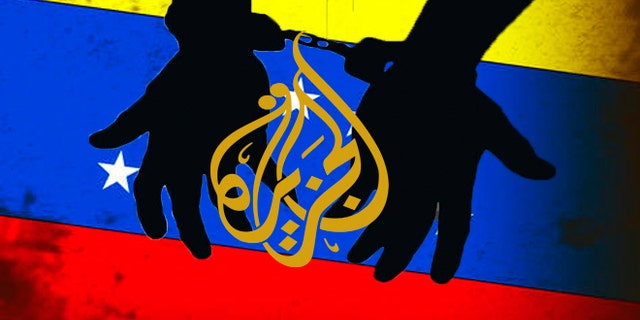 NEWYou can now listen to Fox News articles!
The Venezuelan government is set to expel a crew of journalists working for Al Jazeera who planned on covering Thursday's march against President Nicolás Maduro.
Venezuela's National Union of Press Workers (SNTP) announced that authorities had detained three employees of the Qatar-based news agency when they arrived on Monday at the Maiquetia international airport outside Caracas.
"Teresa Bo, correspondent, Lagmi Chavez, producer, and a cameraman (from) @AlJazeera were detained in Maiquetia," the SNTP tweeted, adding that their equipment was confiscated.
The Al Jazeera workers, who had arrived on a flight from Colombia, are set to be deported to back to Colombia.
The detainment of the journalists comes as Venezuela's socialist government faces major economic and political turmoil, with organizers of Thursday's march demanding that the government meet their constitutionally sanctioned demand for a referendum to remove Maduro from power.
Since global oil prices plunged in 2015, Venezuela hasn't had the funds to import basic goods such as food and medicine, creating acute shortages and stirring anger toward the Maduro administration.
Adding to the overall misery are a drastic rise in violent crime, especially in the capital city of Caracas, rolling blackouts and widespread and often times bloody protests against the government. There have been casualties and deaths on both sides of the protests and accusations from international groups of human rights abuses and political oppression as well as the suppression of free press.
Venezuelan media rights group Espacio Publico said that in 2015 there were 286 incidents of intimidation and harassment against journalists. Reporters Without Borders also ranked the country 137th out of 180 last year on its worldwide press freedom index.
The detainment of the Al Jazeera journalists appears to be another sign that the Maduro administration is trying to keep tight control over how Thursday's protest will be covered across the world.
On Saturday, the government issued a decree banning all private aircraft and drones over Venezuelan territory until Sept. 5 — no was explanation given, but many are connecting it to the ongoing rallies.
Over the weekend state intelligence agents took former mayor of San Cristóbal, Daniel Ceballos, an opposition leader, from his home and moved him back to prison in central Guarico state. He had been under house arrest.
The socialist government said Ceballos was planning to flee before the Thursday protest in Caracas and carry out violent acts to destabilize the country. But the move alarmed the opposition, Washington and human rights groups who consider him a political prisoner.
Like us on Facebook
Follow us on Twitter & Instagram