US threatens fresh sanctions against Russia over Ukraine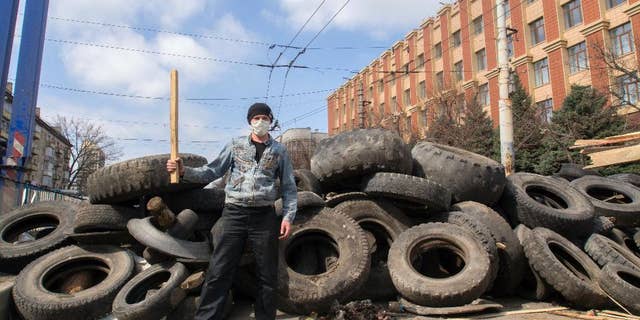 WASHINGTON – Treasury Secretary Jacob Lew is warning Russia that it could face tougher economic sanctions because of its actions in Ukraine but so far other economic powers are showing a reluctance to go as far as the United States.
Lew delivered his warning Thursday to Russian Finance Minister Anton Siluanov, telling him that the Obama administration was willing to impose "additional significant sanctions" if Russia escalates the Ukraine situation. Treasury said in a statement that Lew described Russia's annexation of Crimea as "illegal and illegitimate."
Lew met Siluanov in advance of talks between finance ministers and central bank presidents of the Group of Seven major economic powers and a broader Group of 20, which includes the traditional powers and emerging economies such as China, Brazil and India.
Lew's tough language did not find its way into a joint statement from the G-7, and there was no hint that sanctions against Russia might be strengthened.
Instead, the G-7 statement said the major economic powers had discussed "the situation in Ukraine, its financing needs and the international response."
It was expected that Russia also would be spared any criticism in the G-20 communique, which was scheduled to be issued at the end of the G-20 talks Friday.
Russia is a member of the G-20 but not the G-7. The G-7 nations are the United States, Japan, Germany, Britain, France, Canada and Italy.
Last month, President Obama met with other G-7 leaders, and the group confirmed that it was indefinitely suspending cooperation with Russia, which for more than a decade had joined with the G-7 countries to form the Group of Eight nations. That larger group was to hold a summit later this year in Sochi, Russia. But the G-7 nations have said they will boycott that meeting.
French Finance Minister Michel Sapin told reporters Thursday before the discussions began that France preferred to focus on the economic support being provided to Ukraine. That effort is being led by the International Monetary Fund, which says it will provide up to $18 billion in loan guarantees to Kiev to help the country get its economy moving again.
"The question is not to talk about sanctions. The question is to get started ... as quickly as possible" working to get the IMF's support program implemented, Sapin told reporters.
The U.S. delegation to the G-7 and G-20 talks was led by Lew and Federal Reserve Chair Janet Yellen. Those discussions were being held in advance of the annual spring meetings Saturday of the 188-nation IMF and its sister lending organization, the World Bank.
The G-20 talks were scheduled to wrap up Friday with news conferences from many of the participating nations. Then on Saturday, the policy-setting councils of the IMF and World Bank were to meet.
IMF Managing Director Christine Lagarde said the global economy was finally turning the corner after a deep recession but the recovery remains too weak.
Speaking at a news conference, Lagarde called on governments to aggressively pursue programs to spur economic growth to help the millions of people who remain unemployed.
"Bold actions are needed to generate stronger growth," Lagarde told reporters.
The discussions on how to boost growth and fight poverty were likely to be overshadowed at the meetings by the rising tensions over Russia's actions in Ukraine.
The United States and European nations have imposed various economic sanctions on Russia, including travel bans and asset freezes in response to Russia's annexation of Crimea, with the possibility of tougher sanctions on the table.
To provide support for Ukraine's cash-strapped government, the IMF is working up a loan package to provide $14 billion to $18 billion in assistance.
However, Russian President Vladimir Putin has threatened to demand advance payment from Ukraine for natural gas that Russia supplies to the country.
Asked Thursday about the IMF support, Lagarde said the IMF hoped to have the program for Ukraine approved by its 24-member board by the end of this month or early May.
Foreign ministers from the 28-nation European Union are scheduled to meet in Brussels on Monday and the issue of expanding the sanctions will be discussed. However, some countries have already expressed opposition to such a move.
World Bank President Jim Young Kim told reporters at a separate news conference that the sanctions that have already been imposed were having a dampening effect on Russia's economy and if the crisis worsens, he said Russia could be pushed into a recession.
Kim said the World Bank was preparing its own support package for Ukraine amounting to around $3.5 billion.
A G-20 dinner Thursday night included a tribute to former Canadian Finance Minister Jim Flaherty, who died earlier in the day. Flaherty, who took the Cabinet position in 2006, was the longest-serving G-7 finance minister before he announced three weeks ago that he was stepping down. A friend said he had died of a massive heart attack.
Australian Treasury Minister Joe Hockey, the current chair of the G-20, told the group, "Canada is poorer for his passing and we are all poorer."
Lew cited Flaherty for his skill in helping Canada navigate the 2008 global financial crisis.