US-blacklisted Iranian airline begins direct flights to Venezuela
An Iran airline blacklisted by the United States for allegedly transporting military equipment to Middle East war zones began direct flights between Tehran and Venezuela on Monday, signifying a growing relationship between the two nations in the face of U.S. sanctions and growing upheaval.
An Iran Foreign Ministry delegation left Tehran early Monday on a Mahan Air flight en route to Caracas, Iran's IRNA news agency reported.
The spokesman of Iran's Civil Aviation Organization, Reza Jafarzadeh, told Mehr news agency the delegation included a group representing the private airline that was traveling to Caracas to discuss maintaining regular flights between the two countries.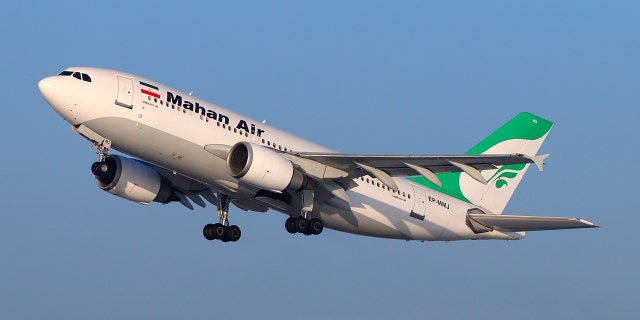 CARACAS, ONCE A THRIVING METROPOLIS, IS STRUGGLING AS COUNTRY PLUNGES FURTHER INTO CHAOS
A non-stop flight between Tehran and Caracas takes about 16 hours.
Mahan Air, established in 1992 as Iran's first private airline, has the country's largest fleet of aircraft. But the U.S. blacklisted Mahan in 2011 after accusing it of providing support to Quds Force, an elite unit of Iran's Revolutionary Guard. The carrier recently halted flights to Germany and France due to U.S. sanctions over its military transport flights to Syria, where Iran supports President Bashar Assad's forces.
President Trump restored tough sanctions on Iran after withdrawing from the 2015 nuclear agreement last year and has also increased sanctions on Venezuela to pressure the government to hand over power to opposition leaders, who are largely supported by the country's populace.
SOME US VENEZUELANS FLOCK TO GOP AMID ANGER AT DEMS FOR LACK OF ACTION AGAINST MADURO
Iran has voiced its support for embattled Venezuelan President Nicolas Maduro, who is in a power struggle with U.S.-backed opposition leader Juan Guiado.
Most Latin American countries have also recognized Guaido as Venezuela's interim president, while European governments are also throwing their support behind him, albeit more cautiously.
Russia, China, Cuba and Turkey have all backed Maduro.
CLICK HERE TO GET THE FOX NEWS APP
The news of a tentatively established flight course between Tehran and Caracas comes weeks after Moscow sent military personnel to Venezuela.