University of Hawaii sends 'in the event of a nuclear attack' email about North Korea crisis
University of Hawaii students reportedly opened their inbox Monday to find an email headlined: "In the event of a nuclear attack" -- an ominous message sent as North Korea continues to threaten a missile attack on the United States.
The email to students and faculty members gave instructions to "shelter in place" if a nuclear or ballistic missile attack by Kim Jong Un's regime did occur, Hawaii News Now reported, citing a copy of the message.
"In light of concerns about North Korea missile tests, state and federal agencies are providing information about nuclear threats and what to do in the unlikely event of a nuclear attack and radiation emergency," the email stated.
NORTH KOREA: WHAT WOULD A NUCLEAR ATTACK LOOK LIKE?
Legislators on the island met in September to discuss how to prepare residents for a potential nuclear attack, Honolulu Civil Beat reported. Some in attendance noted the meeting wasn't called because of a specific, immediate threat to Hawaii; however, "recent regional military threats" prompted plans for a proper response when needed.
North Korea is about 4,660 miles away from Hawaii.
North Korea has repeatedly threatened to strike the U.S. mainland, even vowing to strike the U.S. territory of Guam with four medium-range ballistic missiles in August, though Pyongyang later backed away from the brink. The threat came closer to reality, however, when Kim Jong Un and his rocket scientists launched a missile over Japan in September. That missile reached a height of 480 miles and flew 2,300 miles out -- putting it in range of Guam.
North Korea also recently threatened to bring "nuclear clouds" to Japan and sink the island "into the sea by the nuclear bomb of Juche."
In September, the Hermit Kingdom successfully conducted its sixth nuclear test, with the regime claiming it detonated its first hydrogen bomb. Just hours before the test, photos emerged in a North Korean newspaper showing Kim Jong Un allegedly inspecting a new thermonuclear warhead in a lab. A diagram on the wall showed a bomb mounting inside a cone, appearing to indicate scientists were working to mount the device on a missile.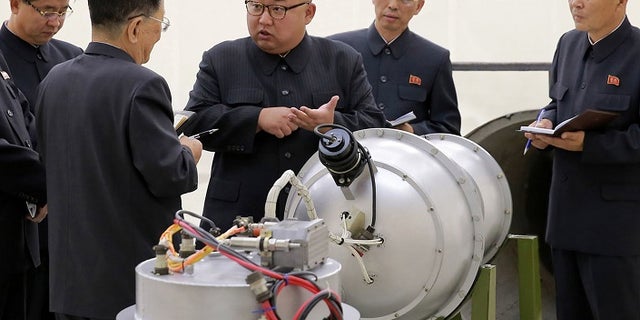 NORTH KOREA COULD USE HOLIDAY AS EXCUSE TO PROVOKE US, EXPERTS SAY
Officials feared another missile or nuclear test was possible on Monday or Tuesday, as North Korea celebrated the anniversaries of its first nuclear test and the foundation of the ruling Worker's Party of Korea.
NORTH KOREA HACKERS REPORTEDLY STOLE US, SOUTH KOREA WAR PLANS
Defense Secretary Jim Mattis spoke at an Army conference in Washington, D.C. on Monday and said "military options" are available for President Trump to employ "if needed."
"There's one thing the U.S. Army can do, and that is you have got to be ready to ensure that we have military options that our President can employ if needed," Mattis said, adding that diplomacy is still the priority.