UN rips Venezuelan human rights abuses, as government orders opposition leader's wife to court
A hard-hitting United Nations report on Venezuela released this week said the human rights situation in the socialist country is "increasingly critical" for anti-government protesters, who are facing "mounting levels of repression" from that country's national security forces.
The report from the United Nations High Commissioner for Human Rights (OHCHR), released Wednesday, noted that the security forces subjected those detained, including children, to "cruel, inhuman and degrading treatment."
"The first time I saw my family they did not recognize me because my face was so swollen and burnt by all the chemicals," the report quoted one young man they interviewed as saying.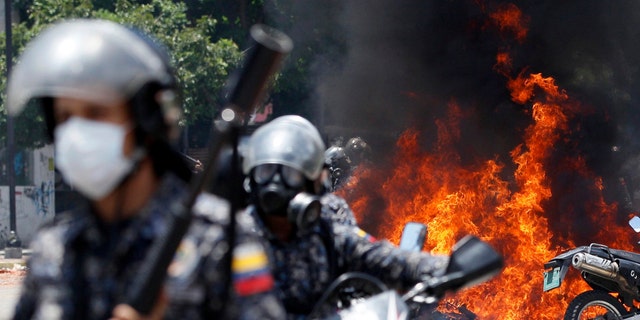 It said many of those detained "were severely beaten, including with sticks, metal bars, pliers, helmets, baseball bats and weapons all over their bodies including their genitals."
Meantime, the government opened an investigation into the wife of opposition leader Leopoldo Lopez, who is under house arrest, ordering her to appear Tuesday before a local court. Authorities on Thursday said they found 200 bolivars, about $60,000 at the official exchange rate or $10,000 at the black market rate, in her car.
She said on Twitter that it is not a crime to have cash in one's possession and that it was to pay for the care of her 100-year-old mother. The court summons did not specify what alleged offense she is being investigated for.
While the government of President Nicolas Maduro did not allow the U.N. investigators into the country, the report was based on phone interviews with victims, their families, NGOs, journalists, lawyers, first-responders and doctors. They also received information for the report from Venezuela's U.N. mission in Switzerland.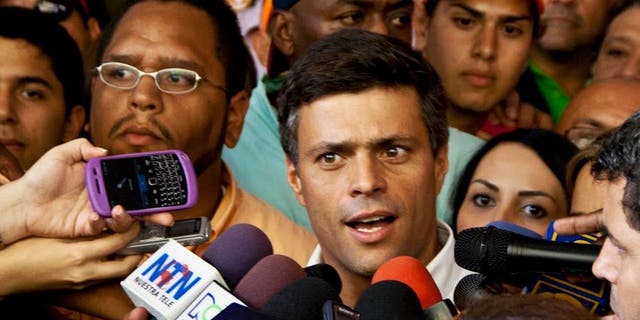 "I was completely naked. They drenched me in water. One guard kept saying "wet him well otherwise you are going to fry him" as they gave him electric shocks, one detainee said. "I could not stand the pain," another torture victim told the investigators.
Other detainees, the report said, spoke of threats of sexual violence including rape and death by the guards against both men and women.
Venezuela's government slammed the U.N. document as an "embarrassingly shoddy and biased report."
The report said that victims' accounts were consistent and corroborated by medical records and NGO reports.
"We have never seen this rate of detentions before," a lawyer from Caracas told the investigators.
Conditions in detention centers were also harrowing. The report said they were held in over-crowded cells that were rat and insect infested and with many lacking access to drinking water or toilet facilities.
Access to doctors, the report said, was unusual, with many not seeing sunlight for weeks at a time.
The report also condemned excessive force by the police and National Guard, both of which are part of the country's armed forces. The report listed examples such as "shooting tear gas grenades directly at protesters at short-range, and manipulated ammunition to make them more harmful."
The U.N. report also said that as of July 31 there have been 124 deaths and NGO sources estimated that over 5,000 individuals, including 410 children, had been arbitrarily detained.
"The U.N. High Commissioner report could not be more damning for the Venezuelan narco-militarized tyranny, specially coming from an organization known for evading confrontation with its member countries," Diego Arria, a former U.N. ambassador for Venezuela, told Fox News
Arria, a harsh critic of the Maduro regime and former governor of Caracas, decried the lack of action on Venezuela at the U.N. Security Council.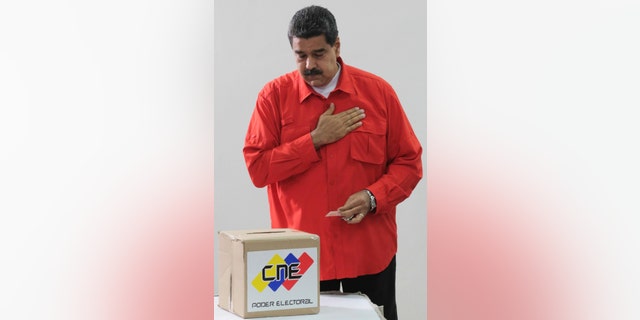 "The U.N. Security Council has refused to include this Venezuelan tragedy in its agenda, where it faces basically Russia that sees Venezuela as an important ally in the region, and would veto its consideration, most probably together with China," he said.
"We support OHCHR's efforts to shed light on the abysmal human rights situation in Venezuela," a spokesperson from the U.S. mission to the U.N. told Fox News.
The spokesperson told Fox that there was nothing to share in terms of any Security Council action that might be planned by the U.S., but pointed to Ambassador Nikki Haley's comments in May, when Haley had forced a closed-door meeting of the council to discuss the worsening situation there.
"What we were looking for was for the Security Council to notice exactly what the situation is, in light of prevention, be cautious in this area, and know that we need to be watching it because it could get worse before it gets better," Haley said.
The Ethiopian ambassador to the U.N, Tekeda Alemu, who is September's rotating president of the Security Council, told Fox that while he didn't fully dismiss the chance of it coming up, he didn't anticipate it being discussed.
Maduro, the country's socialist president, is expected to be in New York this month and is likely to address the United Nations during its annual general debate.
The United Nations Mission of Venezuela did not respond to questions sent by Fox News.
The Associated Press contributed to this report.