UK's move to limit lone child refugees draws backlash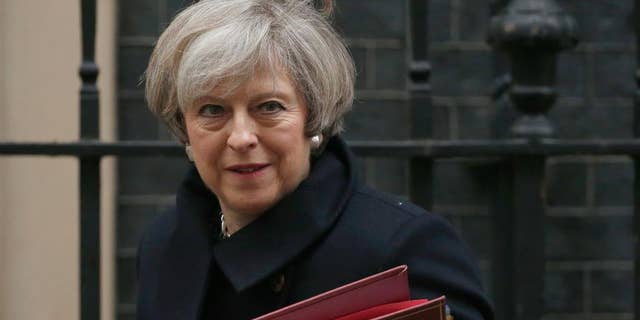 Britain's move to limit the entry of child refugees traveling alone triggered a backlash Thursday, with some lawmakers accusing the Conservative government of aligning the U.K. too closely with the U.S. under President Trump.
ISIS FIGHTERS REPORTEDLY CALLING TRUMP TRAVEL BAN THE 'BLESSED BAN'
Supporters of the amendment had said it could help as many as 3,000 lone child refugees from migrant camps by giving them homes in the U.K., Sky News reported. However, a new limit imposed by the government allows only about 350 children.
The decision came after France claimed the amendment could encourage too many children to make the dangerous trip to Britain -- and draw traffickers at the same time, Home Secretary Amber Rudd said.
KENYA COURT QUASHES GOVERNMENT ORDER TO CLOSE REFUGEE CAMP
"We are not saying we are closing the door, we are putting up the drawbridge," she added. "We are not saying that."
Still, many lawmakers in the House of Commons slammed the decision, calling a Trump-influenced move. "Is this what comes of cozying up to President Trump?" Joanna Cherry of the Scottish National Party asked.
Some 200 children have been brought in to the U.K. so far. Prime Minister Theresa May called her government's approach "absolutely right."
Hundreds of thousands of refugees have poured into Europe in recent years, many fleeing war and terror in the Middle East and North Africa. It's forced European countries to consider exactly how many refugees to welcome in, and how to do so. President Trump's executive order last month limited travel to the U.S. from seven countries.
Labor Party lawmaker Alf Dubs -- a Czech-born politician who came to the U.K. through the Holocaust rescue effort known as the Kindertransport -- proposed the amendment.
Opposition lawmakers also accused Britain's Home Office of trying to sneak through the changes on Wednesday, when lawmakers were debating the highly charged Brexit bill that would allow May to trigger Britain's departure from the 28- nation European Union.
The Associated Press contributed to this report.