Ukrainian soldier setting himself on fire seen in horrifying photos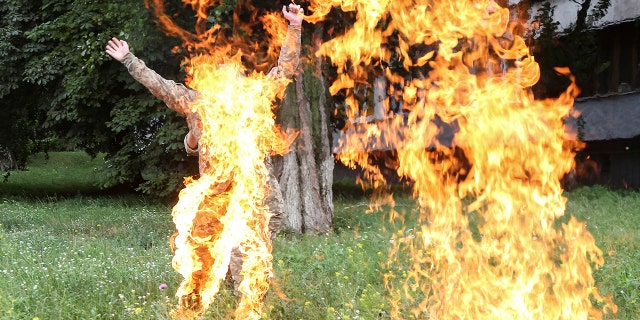 In a series of horrifying images, a former Ukrainian soldier was caught setting himself on fire Thursday -- reportedly to protest being dismissed from the army.
Serhii Ulianov was seen covered in flames while wearing his military uniform and standing outside the Ukrainian Defense Ministry headquarters in Kiev.
According to local news site UNIAN, servicemen attempted to stop Ulianov before the self-immolation. But Ulianov broke from from their grasp, dousing himself with gasoline and setting himself ablaze.
Firefighters and servicemen put out the flames within seconds and called an ambulance.
Ulianov was taken to the hospital and is currently being treated, the report said.
Officials believe Ulianov was part of a group of soldiers who claimed they were illegally discharged from the military. He had announced his intention to set himself on fire on Wednesday.