Turkey says warplane shot down by Syria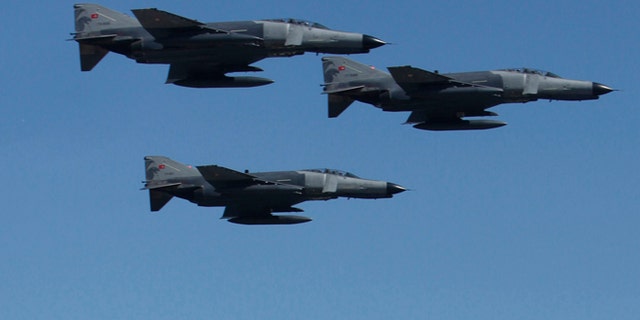 ANKARA, Turkey – Turkey said its air force jet that disappeared over the Mediterranean Sea on Friday was shot down by Syria, in an action likely to worsen already strained relations between the neighboring countries.
A statement following a two-hour security meeting led by Turkish Prime Minister Recep Tayyip Erdogan said the warplane that went missing near Syria was downed by Syrian forces and that the two Turkish pilots remain missing. It said Turkey "will determinedly take necessary steps" in response, without saying what they would be.
Turkey has joined nations such as the U.S. in saying that Syrian President Bashar Assad should step down because of the uprising in his country. Turkey also has set up refugee camps on its border for more than 32,000 Syrians who have fled the fighting.
"Following the evaluation of data provided by our related institutions and the findings of the joint search and rescue efforts with Syria, it is understood that our plane was downed by Syria," the statement said, without providing other details.
It was not clear what action Turkey might take, but after a cross-border shooting by Syrian forces earlier this year Turkey said it would not tolerate any action that it deemed violating its security.
The downing of the F4 plane was likely to further escalate tensions. Turkey's military provided no details on the plane's mission, but some Turkish TV reports said it was on a reconnaissance flight.
Erdogan said the plane went down in the Mediterranean Sea about 8 miles (13 kilometers) away from the Syrian town of Latakia. Four Turkish gunboats and three helicopters were searching for the pilots and wreckage of the plane.
Earlier Friday in Lebanon, Hezbollah's Manar TV reported that Syrian forces shot down the Turkish plane, citing unidentified Syrian security sources. Hezbollah is closely allied with Syria.
The Turkish military said the plane disappeared from its radar and that radio contact was lost at 11:58 a.m. (0958GMT) Friday during a mission flight.
Some eyewitnesses in Turkey's seaside area of Hatay province told private NTV television that the plane was flying so low they thought it would "hit the roofs." They said the plane then flew toward the sea.