Trump-Kim summit held in Hanoi's Metropole hotel which once hosted celebs from Charlie Chaplin to Jane Fonda
The Sofitel Legend Metropole Hanoi added another historic event to its storied past this week when it became the host of the second U.S.-North Korea summit where President Trump and North Korean leader Kim Jong Un will hold talks.
But the colonial-era hotel already has a history of hosting politicians, reporters, high-ranking officials and celebrities, from Charlie Chaplin to actress Jane Fonda.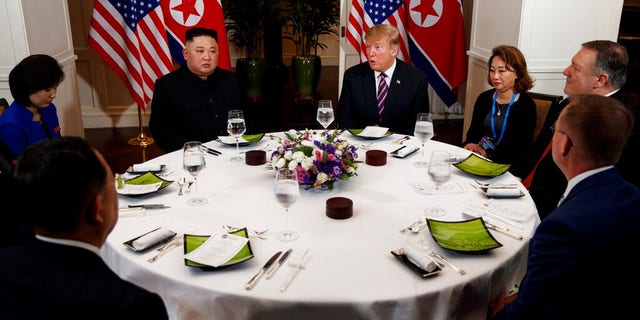 Built in 1901, the five-star hotel is one of the most luxurious places to stay in Hanoi and is located just a short distance away from some of the most historic sights. The staff has seen a revolving door of notable people check-in and check-out of rooms, including Novelist Graham Greene, who stayed at the hotel while writing a part of his seminal 1955 work, "The Quiet American."
TRUMP PRAISES 'SPECIAL RELATIONSHIP' WITH NORTH KOREA'S KIM JONG UN AT START OF HANOI SUMMIT
Charlie Chaplin stayed at the Metropole in 1936 for his honeymoon to wife Paulette Goddard. The hotel now has a "Charlie Chaplin Suite" for those looking for a "romantic haven."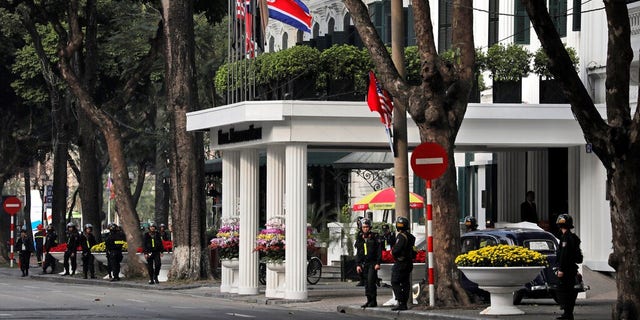 One of the most memorable celebrities to stay at the famed hotel was Jane Fonda, who made a controversial visit in 1972 during the Vietnam War. The actress was labeled "Hanoi Jane" following the visit after a picture emerged of her sitting next to an anti-aircraft gun that was used to target American planes at the time.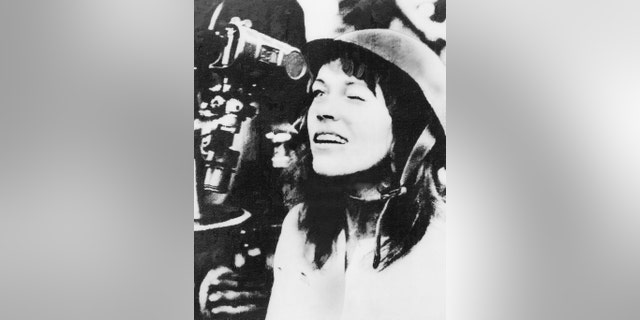 Trump also stayed at the hotel during his 2017 Vietnam trip, though this time around he chose to spend his nights at the JW Marriot, Reuters reported.
Today, the hotel staff conduct tours of its bomb shelter that the hotel engineer department rediscovered in 2011 while renovating the establishment's Bamboo Bar, its website stated. The bomb shelter was used during the war from 1964 to 1973 to protect guests from air raids.
The bunker was later closed and sealed, but reopened in 2012.
VIETNAM ARTIST PAINTS 'PEACE' PORTRAITS OF TRUMP, KIM FOR HANOI SUMMIT
Trump and Kim arrived at the hotel Wednesday evening and exchanged handshakes and laughs before they sat down to speak to reporters. They met for about 20 minutes before enjoying a "social dinner."
The leaders will return to the Metropole on Thursday for formal talks on denuclearization and possibly the end of the Korean War.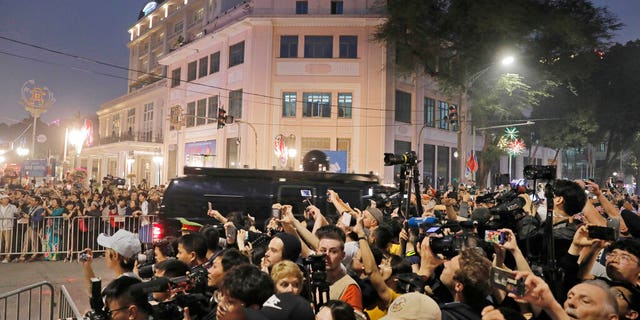 Although the hotel is not the most ideal location for security, according to Reuters, Trump and Kim most likely chose it because of its "ability to keep secrets."
CLICK HERE FOR THE FOX NEWS APP
"When superstars come here, some journalists offered $2,000-$5,000 or more to staff to take a photo of that superstar, but that has never happened," former head of marketing at Metropole, Nguyen Dinh Thanh, told Reuters.
"That shows Metropole has a tradition of keeping secrets as well as knowing how to treat VIP guests," he added.