Top US military officer says ties between US and Pakistan on 'road to recovery'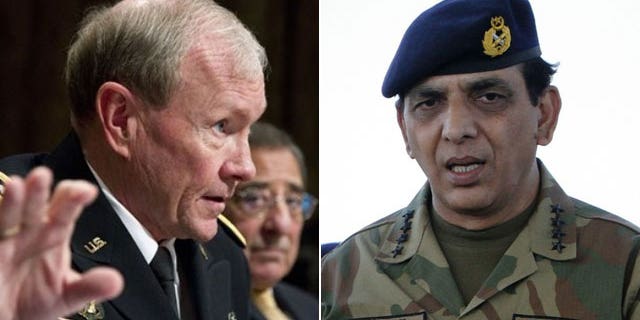 The top U.S. military officer said Thursday that ties between the U.S. and Pakistan were on the "road to recovery" and that he hoped to resolve differences by mid-May to allow the reopening of supply lines for troops into neighboring Afghanistan.
Martin Dempsey, the chairman of the U.S. Joint Chiefs of Staff, didn't say whether any agreements emerged from talks among the two nations' top commanders Wednesday in Islamabad.
The talks involved James Mattis, the senior U.S. military officer for the region, and John Allen, the top U.S. commander in Afghanistan. The two met Pakistan army chief Ashfaq Parvez Kayani in the first such session since relations were ruptured when US helicopters accidentally killed 24 Pakistani soldiers in an air strike in November.
Mattis departed Pakistan on Thursday, the U.S. Embassy in Islamabad said in a statement that provided few details of the talks.
Dempsey said the start of the warm weather fighting season in Afghanistan and the planned withdrawal this year of 23,000 US troops, along with equipment, added to the urgency of reaching a deal to reopen overland supply routes through Pakistan.
Pakistan shut the routes after the November air strike, forcing the U.S. and its NATO allies to find alternative routes. Pakistan also suspended high-level civilian and diplomatic meetings with U.S. officials and ejected the U.S. from an air base it had used to launch drone strikes.
Click here to read more on this story from The Wall Street Journal.