Threatening Packages Disarmed at Athens Airport, German Chancellor's Office After Four Parcel Bombs Explode in Greece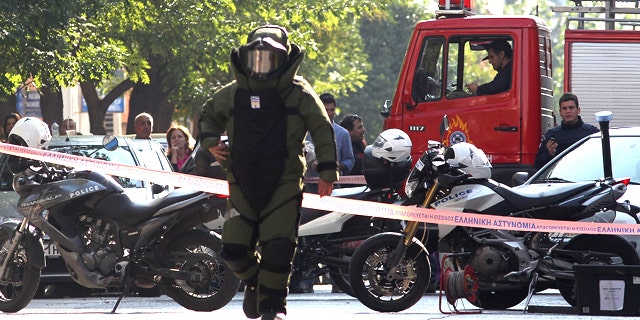 BERLIN – BERLIN -- German police disarmed a mail bomb Tuesday that was sent from Greece to German Chancellor Angela Merkel's office, hours after similar small bombs exploded outside the Russian and Swiss embassies in Athens in attacks blamed on far-left Greek extremists.
Greek police say the country's civil aviation authorities are suspending all deliveries of mail and parcels abroad for 48 hours.
A police statement says the freeze will allow authorities to check for the existence of more mail bombs. The decision comes after a wave of mail bombs were sent to foreign embassies in Greece and to German Chancellor Angela Merkel's office.
Greek police destroyed five more suspected bombs in Athens, and two local men have been charged with mailing bombs.
Among them were two parcels police destroyed late Tuesday in the cargo area of Athens International Airport. Flights were not affected. Police said the packages were addressed the European Union's highest court in Luxembourg and the Europol law enforcement agency in the Netherlands.
That brought the total number of similar mail bombs found to eight: two that detonated outside embassies, five that were destroyed, and the one sent to Merkel.
Merkel's spokesman, Steffen Seibert, said the package was personally addressed to the German chancellor and "would have been able to harm people."
German Interior Minister Thomas de Maiziere said the package arrived midday in the mailroom of Merkel's office. He said that, not only did it bear a Greek return address, but authorities had traced the fact it had been sent from Greece two days ago.
"It contained an explosive device," de Maiziere told reporters.
"Based on everything that we know, it was built in the same way and visually resembled the package that exploded at the Swiss embassy in Athens," he said.
He described it as a package that appeared to be a book. The news agency DAPD reported the package contained a pipe filled with black powder.
No group claimed responsibility for Tuesday's attacks, which caused no injuries. No warning was given, and no link has been made with the recently discovered Yemen-based mail bomb plot, which used much more powerful devices.
Greece has a vocal anarchist political fringe that opposes most forms of state authority -- particularly the police and political parties -- as well as capitalism and globalization.
In recent decades, small radical anarchist or nihilist groups have staged attacks ranging from nighttime car burnings to bomb and gunfire attacks on symbols of state power and wealth -- including the U.S. embassy in Athens.
Merkel was in Belgium when the package arrived. Seibert said it showed "marks that indicated the possibility of explosives" and police were alerted immediately.
The development raised new questions about the security of cargo and parcels. People in the transportation industry said Tuesday there are few security checks on packages transported within the European Union by road or rail.
"Once they're in Europe, the goods are free to move around," said Robert Windsor, manager of trade services at the British International Freight Association.
UPS said it was aware of reports it had delivered the suspicious package but could not confirm them.
"We're working closely with authorities to investigate," UPS spokesman Norman Black said by e-mail. He said UPS transports packages in Europe by both ground and air.
If it turns out that one or more suspect packages has been transported by air, that would be very troubling, a UK-based aviation security consultant said Tuesday.
"If they have been flown, then it rather begs the question whether European freight air security is up to muster at all," said Chris Yates.
Although they caused minimal injuries and damage, the attacks in Greece were an embarrassment to a government that had hoped militant attacks were on the wane after a string of arrests earlier this year.
"The government condemns in the strongest possible way those who try in vain to terrorize and disturb the public tranquility," government spokesman George Petalotis said.
The country is in the midst of a debt crisis, and only avoided bankruptcy in May after securing billions of euros in emergency loans from its European partners -- led by Germany -- and the International Monetary Fund. In exchange, the government made painful spending cuts, slashing pensions and salaries and hiking taxes.
The wave of attacks began Monday when a mail bomb addressed to the Mexican embassy exploded at a delivery service in central Athens, lightly wounding one worker.
Authorities searched surrounding streets and arrested two young men who were allegedly carrying mail bombs addressed to French President Nicolas Sarkozy and the Belgian Embassy, along with handguns and bullets. Late Tuesday, police named them as 22-year-old Panagiotis Argyros and 24-year-old Gerasimos Tsakalos.
Police detonated the bombs along with a fourth device found at a delivery company and addressed to the Dutch Embassy.
One of the suspects was wanted in connection with an investigation into a radical anarchist group known as Conspiracy Nuclei of Fire, which has claimed responsibility for a spate of small bomb and arson attacks over the past two years.
The men were charged with belonging to a terrorist group, acts of terrorism and causing explosions that endangered human lives. The charges carry a minimum 25-year prison sentence.
The explosions in Greece continued Tuesday with the detonation of a bomb outside a six-story building that houses the Swiss Embassy. Swiss Foreign Ministry official Georg Farago said embassy employees regarded the package as suspicious after noticing "traces of metal" on it.
"The package burst into flames when the employees removed the external wrapping of the package. At the same moment, there was an explosion. No one was injured," Farago said.
Soon after, a courier heading for another embassy became suspicious about a package and stopped at Parliament, where police explosives experts detonated a bomb.
Police then found explosive devices at the Bulgarian Embassy and a central Athens courier company -- where the German embassy had returned a suspicious package -- and set them off in controlled explosions.
Bulgarian Foreign Ministry spokeswoman Vesela Cherneva said the embassy had alerted police about a suspicious parcel after contacting the stated sender, who denied having mailed anything. Chilean embassy officials told a similar story.
A fifth bomb went off on the grounds of the Russian Embassy.
Authorities closed down sections of the capital and checked dozens of potential targets, and all embassies were given additional police security.
Sweden's foreign ministry said representatives from the Swedish, French, Dutch and Irish embassies had a meeting on how to increase security in the building they share in Athens.
And Norwegian foreign ministry spokeswoman Marte Lerberg Kopstad said the her country's embassy in Athens was evacuated briefly after the Azerbaijani consulate in the same building received a suspicious package.
Sarkozy said French authorities were working with Greek police.
"The threat is very serious. We are extremely vigilant and I am following it very closely," Sarkozy said during a joint press conference in London with British Prime Minister David Cameron.
Three people have died in hits claimed by anarchist or far-left groups in Greece since early 2009, and police have arrested more than a dozen suspected militants.
The attacks surged after the December 2008 fatal shooting by police of an Athens teenager, which led to days of rioting throughout Greece.
Much of the unrest harks back to the sharp postwar divide between right and left, which led to a civil war and a seven-year military dictatorship. Although a student uprising succeeded in ending military rule in 1974, tensions persist between Greece's security establishment and a phalanx of deeply entrenched leftist groups that often protest against globalization and U.S. foreign policy in the Middle East and elsewhere.
Police believe the parcels that went off Tuesday were sent the day before.