Theresa May busts out dance moves during visit to South Africa
A three-nation visit to Africa by British Prime Minister Theresa May to strengthen relations before Britain's exit from the European Union on Tuesday quickly turned into some dance floor diplomacy.
The prime minister began her visit to Cape Town, where she met with South African President Cyril Ramaphosa and was greeting by a group of dancing students.
May, who is conducting the first working visit by a British leader to South Africa since 2011, joined in with the students, moving from side to side and bobbing up and down.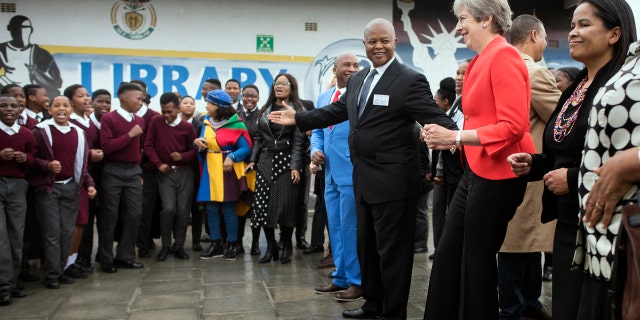 In the later part of her visit to the I.D. Mkize Senior Secondary School, she joined in with a second group of students who were dancing, according to Sky News.
THERESA MAY DISMISSES CALLS FOR 2ND BREXIT VOTE AS NINTH PARLIAMENT MEMBER RESIGNS
"Can I thank all those young people who were involved in the performance outside who welcomed me," May told the crowded school.
The British leader has previously said Abba gets her "up and going," but her dance moves in South Africa drew plenty of reaction on Twitter.
But not all the reaction was negative.
The Associated Press contributed to this report.