Thai opposition MPs in parliament brawl with police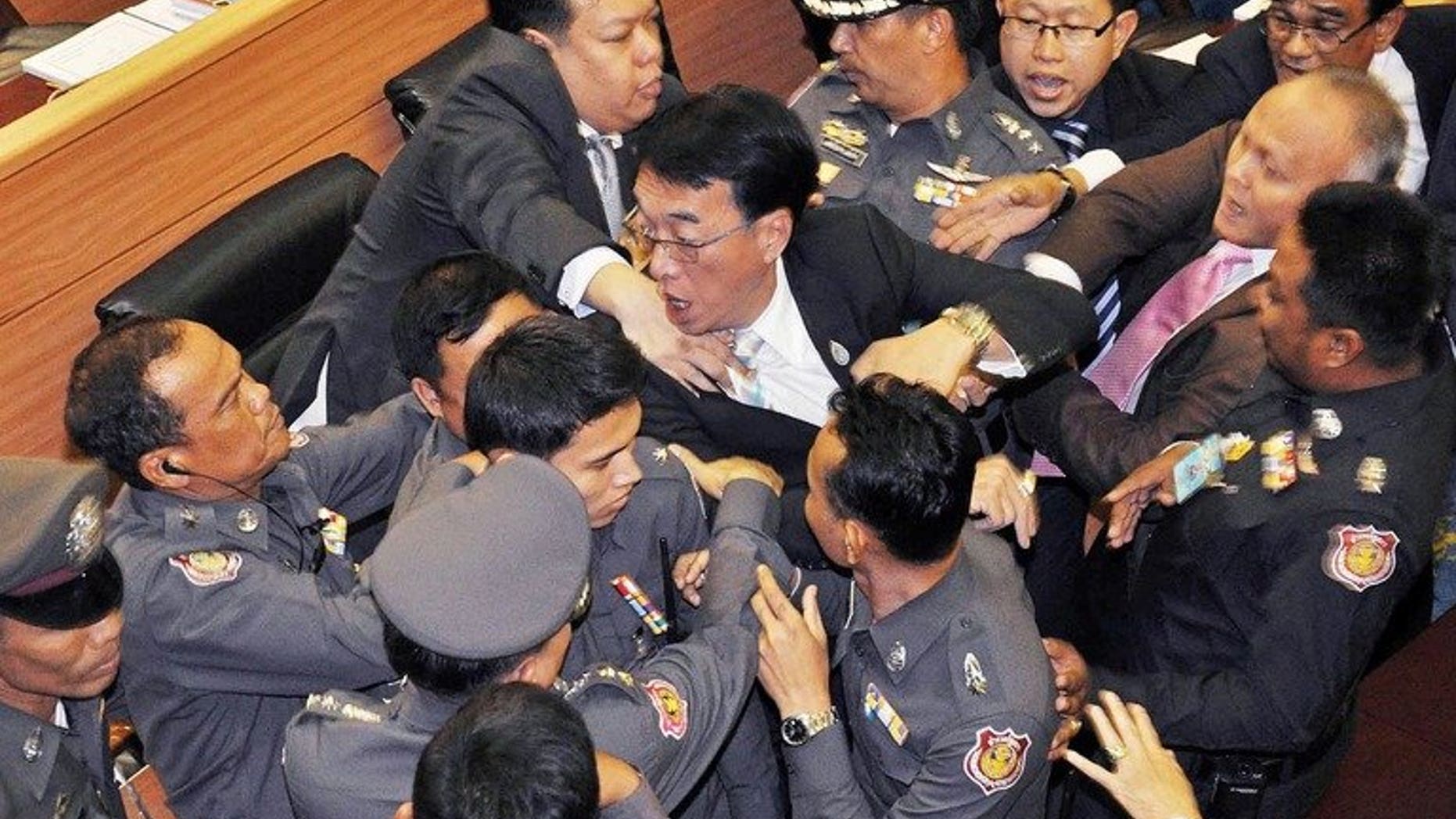 BANGKOK (AFP) – Thailand's parliament briefly descended into chaos Tuesday as opposition lawmakers brawled with police during a debate on controversial proposals to amend the constitution.
Scuffles broke out after 57 members of the opposition Democrat party stood up simultaneously to voice their objections to the plans and refused to be silenced by the Speaker.
Television images showed politicians surrounded by police and grappling with them as they were marched towards the exit of the chamber, while screams were heard in the background.
"I was the first to be grabbed. The Speaker of the House told the parliament police officers to take the ones who were standing out of the room," opposition lawmaker Nipit Intarasombut told AFP. "It was chaotic."
Nipit, who said there were some 100 police in parliament at the time, said opposition MPs were angry at being denied time to speak about the proposals, which would change the senate to a fully elected body.
The plans are part of a contentious bid to amend a constitution written in the wake of a 2006 military coup that ousted then-leader Thaksin Shinawatra.
Deep divisions have torn Thailand since the coup, sparking years of political turmoil. Both Thaksin's "Red Shirt" supporters and nationalist "Yellow Shirt" enemies have taken to the streets in often bloody protests.
The current government led by Thaksin's sister Yingluck, which won elections in 2011, has recently been accused of fuelling tension by supporting an amnesty bill. The opposition fears it could lead to Thaksin's return from self-imposed exile.
Around 2,000 anti-government demonstrators converged near parliament earlier this month in an opposition-led rally against the amnesty bill -- which has since passed its first reading.
Debate in Thai parliament has a history of overheating.
In May 2012 police surrounded the house Speaker to protect him as Democrat MPs threw bundles of paper at him in protest at reconciliation proposals.
A month earlier there were red faces in the legislature when a graphic image of a naked woman in a provocative pose flashed across big screens during a debate on the constitutional amendments. At the time, officials blamed hackers.