Text to mom reveals 3rd Bataclan attacker, while father says he 'would have killed him'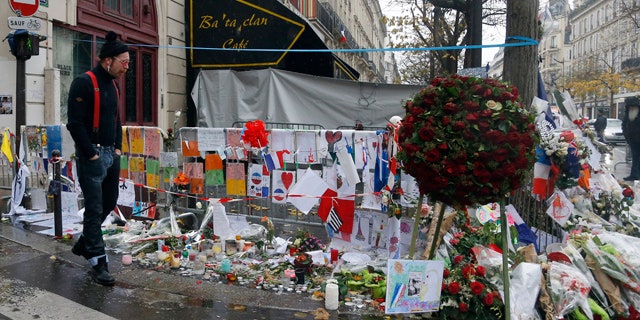 NEWYou can now listen to Fox News articles!
The father of one of the three terrorists who attacked the Bataclan concert hall in Paris last month says he would have killed his son had he found out what he was going to do.
The Le Parisien newspaper identified the third attacker Wednesday as 23-year-old Foued Mohamed-Aggad, a native of the eastern French city of Strasbourg. It emerged that his mother received a text message in English about 10 days ago announcing her son's death "as a martyr" on Nov. 13 — a typical way that ISIS notifies families of casualties.
"What kind of human being could do what he did?" the man's father, Said, told the newspaper. "If I had known he would do something like this, I would have killed him."
The Associated Press reported that Mohamed-Aggad and a group of about a dozen young men left Strasbourg for Syria in late 2013. Some chose to return -- including Mohamed-Aggad's brother Karim -- telling investigators they were disgusted by what they had seen. The Frenchman believed to have recruited them, Mourad Fares, is also under arrest. All are charged with terror-related offenses and face trial.
Le Parisien also reported that Mohamed-Aggad's mother, who was born in Morocco, had recently sent an undetermined amount of money to her son so that he could pay a person who would "steer" him to France. The paper's report did not immediately clarify when Aggad returned to France.
Mohamed-Aggad's mother gave French police a DNA sample which showed that one of her sons was killed inside the Bataclan, his brother's lawyer said, confirming an account by French officials, who requested anonymity to release details of the investigation.
"Without the mother, there would have been nothing," said the lawyer, Francoise Cotta.
Cotta said Mohamed-Aggad had told his family months ago that he was going to be a suicide bomber in Iraq and had no intention of returning to France. Cotta told The Associated Press that Mohamed-Aggad was flagged as a radical but there was no warrant for his arrest.
All the Nov. 13 attackers identified so far have been from France or Belgium, native French speakers who joined ISIS extremists in Syria. The Bataclan attackers, who carried automatic weapons and wore suicide vests, were responsible for the worst of the carnage. Of the 130 killed in Paris that night, 89 died in the concert venue.
The other two Bataclan attackers, Omar Ismail Mostefai, 29, and Samy Amimour, 28, were also French. Two of the three gunmen detonated their explosives when police special forces moved in, while the third was shot by an officer and his explosives went off.
There is still identification work for the police to do. One of the attackers, who was killed Nov. 18 in a police raid on a hideout, remains entirely unidentified. Two of the suicide bombers at the French national stadium carried Syrian passports that are believed to be fake.
"What is important is that the investigation is progressing, that the accomplices are found out, that arrests happen," said French Prime Minister Manuel Valls on Wednesday.
"This will all take time and in the face of the terrorist threat that is unfortunately here, we need to carry on with this work of tracking down terrorists because we are at war with radical Islam, with Daesh," he said, using an Arabic acronym for ISIS, which claimed responsibility for the attacks.
Attackers who struck the city that night included three suicide bombers at the stadium, a squad of commandos who shot up bars and restaurants, a suicide bomber at a restaurant and the three gunmen at the Bataclan.
The Associated Press contributed to this report.