Syria Crackdown Toll Over 5,000, U.N. Rights Chief Says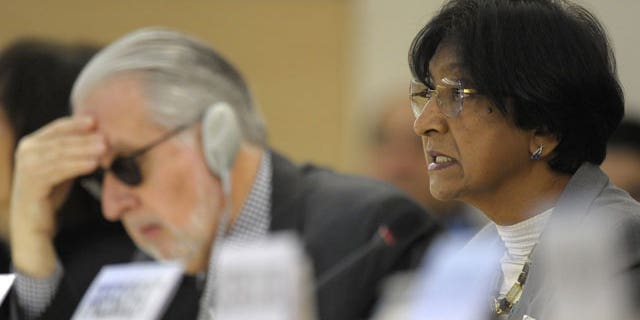 More than 5,000 people are believed to have been killed in the Syrian government's crackdown on protests, U.N. rights chief Navi Pillay told the U.N. Security Council Monday.
Pillay also said there were reports of increased attacks by opposition groups on President Bashar al Assad's security forces but highlighted "alarming" events in the besieged protest city of Homs, according to diplomats in the closed meeting.
More than 14,000 people are estimated to have been detained and 12,400 have fled into neighboring countries since the anti-government protests erupted in March, Pillay told the 15-nation council, according to diplomats.
With hundreds more killed in December in Assad's crackdown "it is my estimation that the total number of people killed since the protests began earlier this year is now likely to exceed 5,000. This situation is intolerable," she was quoted as saying.
The Security Council held a private briefing on Syria with Western nations stepping up pressure for the body to condemn the violence.
Russia and China vetoed a resolution on the Syrian crisis in October.
After meeting with Pillay, German Foreign Minister Guido Westerwelle told reporters, "I think it is necessary that those countries in the Security Council which are still hesitating change their mind."
"I am really shocked about what I heard about the atrocities in Syria," he added. "We owe this to those who lost their lives."
Among the council members, Russia, China, India, South Africa and Brazil opposed or had strong reservations about any formal resolution which they said could be a first step to a Western campaign for regime change.
Pillay told the meeting that the Syrian protesters had remained largely peaceful.
"However, reports of armed attacks by opposition forces, including the so-called Free Syrian Army, against Syrian forces have increased," she told U.N. envoys.
Her death toll did not include Syrian security forces, she stressed. The Syrian government says more than 1,000 police and troops have been killed in the unrest.