Sweden's immigration system under strain from surge in Syrian refugees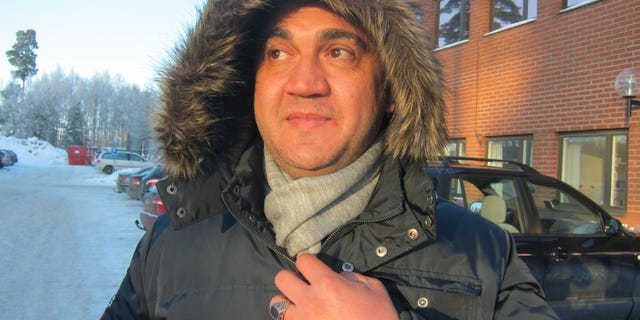 MARSTA, Sweden – Wisam Attiki was drawn by the tales of Nordic refuge: All he had to do was set foot in Sweden, his fellow Syrians said, and the rich, peaceful nation would let him stay.
Still, the 37-year-old from Damascus was surprised at how little fuss there was when he arrived last week at Stockholm's Arlanda airport on a flight from Turkey. He said the Swedish border police showed sympathy when he confessed that his travel documents were fakes that he had bought for €9,000 ($12,000).
"I'm from Syria. I need help," was all he had to say to gain entry, Attiki told The Associated Press. He had just spent his first night in Sweden at a reception center for asylum-seekers in Marsta, a suburb near the airport.
Along with Germany, which is nine times larger, Sweden stands out in Europe for its generous welcome to refugees fleeing a conflict that has killed tens of thousands and uprooted many more. European Union statistics show those two countries have received about two-thirds of the Syrians seeking shelter in the 27-nation bloc.
But Swedish officials say the influx is taking a toll on their immigration system.
The Nordic country, with a population of 9.5 million, received nearly 8,000 Syrians in 2012, and expects more than twice as many this year. Together with Somalis, Afghans and others, the total number of asylum-seekers is forecast to exceed 50,000 in 2013 — the highest level since the Balkan wars in the 1990s.
Because of the risk to their lives at home, virtually all Syrian asylum-seekers are given at least temporary residence permits in Sweden, except those who came to Sweden via other EU countries. Under the bloc's rules, refugees must seek asylum in the first EU country they enter.
Sweden is a natural choice for many Syrians since it already has a large Syrian community. But Swedish officials say the flow would be smaller and more manageable if other EU countries adopted similar asylum policies.
"Solidarity in the European Union is non-existent at the moment," Swedish Migration Minister Tobias Billstrom told the AP. "Meanwhile the inflow of people from Syria continues. And this puts a burden on the Swedish asylum system. The reception conditions ... are not as good as we want them to be."
To cope with the growing caseload, the Migration Board added 400 employees last year and expects the hiring binge to continue in 2013. The biggest challenge, however, is providing housing for the migrants as their asylum claims are processed, which usually takes three or four months, said Mikael Ribbenvik, the agency's director of operations.
The Migration Board has thousands of apartments designated for asylum-seekers but they are filled to capacity, so the agency is scrambling to put up new arrivals in campgrounds and hostels across the country.
More than 7,000 people are currently living in such quick-fix housing, which typically is more expensive than the long-term contracts for the regular apartments, officials said. As a result, the agency's total lodging costs for asylum-seekers jumped 64 percent last year to $115 million.
"We need to give a roof over people's heads and food on the table every day," Ribbenvik said.
Human rights groups have praised Sweden and Germany for their generosity toward Syrian refugees, and urged other European countries to follow their example.
A joint statement this month by Amnesty International and three refugee advocacy groups said many European countries are not providing adequate protection for Syrians. They singled out Greece, Cyprus and countries in eastern Europe.
Sweden also showed an open-door policy during the Iraq war, admitting some 40,000 refugees after the U.S.-led invasion in 2003 — more than any other Western country. That welcome wore out after a few years, though, as Sweden started rejecting asylum claims from Iraqis and deporting them, despite protests from human rights groups.
While surveys show most Swedes still back the country's liberal asylum laws, the dissenters gained a foothold in politics when the far-right Sweden Democrats entered Parliament in 2010 with 5.7 percent of the vote. They have recently polled between 7 and 9 percent.
Party spokesman Martin Kinnunen said the surge in Syrian asylum-seekers was a result of Sweden's "extreme" immigration policies and urged the government to "take after other countries instead of trying to make them take after us."
Markku Aikomus, a spokesman for the U.N. refugee agency in the Nordic region, said Sweden's open-border policy toward Syrians sets an example for Europe, but noted that the refugee crisis puts a much bigger toll on Syria's neighbors. More than a half a million Syrians have fled to Lebanon, Jordan and Turkey.
"Even though the numbers in some countries in Europe are higher than normal, they are still nothing compared to the numbers in neighboring countries," Aikomus said.
In the snowy parking lot of the asylum center in Marsta, Attiki smoked a cigarette with new acquaintances from Syria and Yemen, as they waited for transportation to a temporary housing unit, 90 minutes to the north.
The bus pulled up and they loaded their luggage into the cargo bay, including the plastic bags with bed linen and toiletries that are handed out to all asylum-seekers.
Except for his wife, who he hoped would join him soon in Sweden, Attiki said he had already left Syria behind him.
"I'm looking for safety," he said. "A good life. And to make a family."