Submerged art gallery in the Maldives destroyed by cops after president declares it 'offensive to Islam'
Pickaxe-wielding policemen have demolished a semi-submerged art gallery in the Maldives for being "offensive to Islam".
The British-designed installation at the Fairmont Maldives Sirru Fen Fushi resort was destroyed last week after being criticized by religious leaders in the country.
Islam is the official religion of the paradise island chain which is also a popular destination for honeymooners.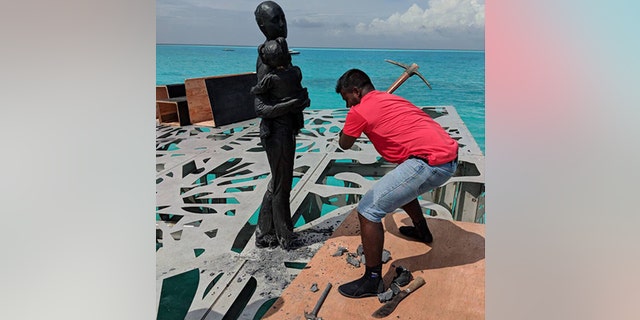 CLICK FOR MORE PICTURES FROM THE SUN
Outgoing president Abdulla Yameen ordered the removal and destruction of the sculptures, deeming them "idols" which are banned by the religion.
This is despite the statues having no religious meaning whatsoever.
The Coralarium was designed by British artist Jason deCaires Taylor and allowed guests at the island hotel to swim from the shore to the underwater gallery.
GERMANY'S SALAFIST MUSLIM CHILDREN BEING RADICALIZED FASTER AND YOUNGER: INTELLIGENCE REPORT
The gallery structure was designed to act as a sheltered space offering a sanctuary for fish other sea-life.
In the evening, a light system illuminated the gallery attracting underwater critters and creating an impressive sight for guests.
But Yameen said in July that there was "significant public sentiment" against the Coralarium, making him decide to raze the structure.