Stooped, but smiling Fidel greets workers in first photos of public outing since illness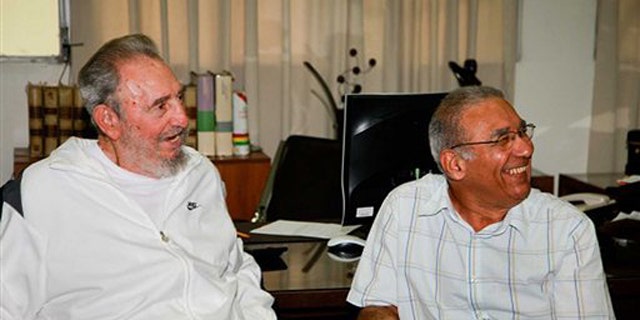 HAVANA – HAVANA (AP) — New pictures of Fidel Castro show the stooped but smiling former leader venturing out to meet with workers at a Cuban scientific think tank — the first to show him in public since he got sick four years ago.
Previously, Cuba had occasionally released pictures showing him in private meetings with dignitaries, most recently during a visit in February by Brazilian President Luiz Inacio Lula da Silva. In those pictures, Castro looked cheerful and robust.
The latest batch of pictures of the tracksuit-clad Castro were posted Saturday on the blogs of two Cuban journalists and a media website.
Castro, 83, appears slightly stooped but otherwise healthy in the pictures, which were said to have been taken Wednesday during a visit to the National Center for Scientific Investigation in Havana.
The initial set of four photos appeared on the blogs of two official Cuban journalists and apparently were taken with a worker's mobile phone. Castro is seen raising his hand to wave in one picture and seemingly being led away in another.
More images from the same event were posted later on Cubadebate, a state-run media website. In those pictures, Castro is seen laughing and talking with workers, some of whom line an overhead walkway to wave and clap at him. In one, he leans back casually against a desk, looking animated.
"He is thin but he looks good, and according to our director, he is very good mentally," reads a comment accompanying photos on the blog of Rosa C. Baez, a journalist who works for official Cuban media.
The comments were sent to her along with the photos by an unidentified worker, who said Castro stopped, said hello and blew kisses to the employees.
"They didn't let us get close to him, but when he left, there were too many people standing around and I was standing just three meters (yards) from him," gushes the worker.
Those photos were also posted on the blog of Norelys Morales, a well-known Cuban television journalist. Morales told The Associated Press she got them in an e-mail sent to various people by the worker. She would not reveal the worker's name.
Repeated calls to the think tank went unanswered Saturday.
Cuban media are strictly controlled by the government, and the fact the photos appeared on blogs of two official journalists and later on Cubadebate was significant. Cubadebate said the revolutionary icon visited the science center to celebrate its 45th anniversary.
It was the first time that photos have been released of Castro in public since he fell seriously ill in July 2006. The illness forced him to turn over power — first temporarily, then permanently — to his younger brother Raul, who is 79.
The elder Castro remains head of Cuba's Communist Party and continues to publish his thoughts on world events in frequent opinion pieces.
The two Castros have ruled Cuba since overthrowing dictator Fulgencio Batista in 1959. Fidel's health has for years been the subject of frequent rumors — particularly among exiles in Florida.
Castro himself said last year that he does not think he will see Barack Obama re-elected in 2012 — though it was unclear if he was passing judgment on his own life expectancy or the political fortunes of the U.S. president.
___
Online:
Rosa Baez's blog: http://cubacoraje.blogspot.com
Norelys Morales blog: http://islamiacu.blogspot.com/2010/07/visita-fidel-castro-el-cnic-en-la.html