South Korea wants talks with North Korea on Winter Olympics cooperation
South Korea on Tuesday proposed high-level talks with North Korea to strategize ways to cooperate during the upcoming Winter Olympics, the olive branch coming after Kim Jong Un expressed a desire to send his own athletes to the games — which the South's sports minister said could usher in peace and prosperity on the peninsula after a year of nuclear war threats.
South Korea's unification minister Cho Myoung-gyon, during a nationally televised news conference, suggested the two rival countries meet on Jan. 9 at the shared border village of Panmunjom to discuss Olympic cooperation and how to improve overall ties.
"We hope that South and North Korea will sit down to discuss the North's participation in the games and ways to improve inter-Korean ties in a frank manner," Cho said, according to Yonhap News Agency. "The government has a willingness to have dialogue with the North regardless of timing, place and format."
NORTH KOREA TEAM AT OLYMPICS SHOULD PROMPT US BOYCOTT, GRAHAM SAYS
North Korea has not responded to the South's proposal. Kim said during his New Year's Day address he is willing to send a delegation to the Winter Olympics in Pyeongchang — to be held between Feb. 9 and 25 — and "sincerely" hoped the games "will be a success." It was the first time the despot expressed some interest in sending athletes to the games after repeated calls from South Korea.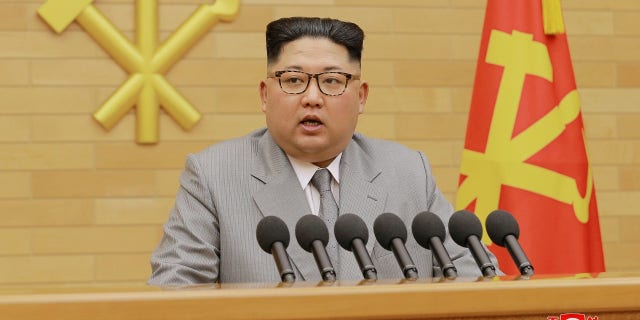 South Korean Sports Minister Do Jong-hwan also said Tuesday he believed the Winter Olympics will help usher in a new era of peace and prosperity in the Korean Peninsula after a year of threats and nuclear and missile tests by the rogue regime, according to Yonhap.
"We'll do the best we can if the PyeongChang Olympics can help reduce military tensions on the Korean Peninsula, improve inter-Korean relations and restore peace on the peninsula," Do said. "And to that end, we're in close coordination with relevant government agencies."
KIM JONG UN CLAIMS HE HAS 'NUCLEAR BUTTON' ON HIS DESK
He added: "I'll try to create an environment where you'll be working with a sense of pride and a sense of duty…when each and every one of you is happy, we can then help our culture blossom."
Meanwhile, North Koreans rang in the New Year with an ice sculpture of the intercontinental ballistic missile Hwasong-15 at the Pyongyang Ice Sculpture Festival in Kim Il Sung Square. Photos, which appeared to have been photoshopped, were posted by Japan's Kyodo News and showed people posing in front of the massive sculpture as fireworks blazed the sky.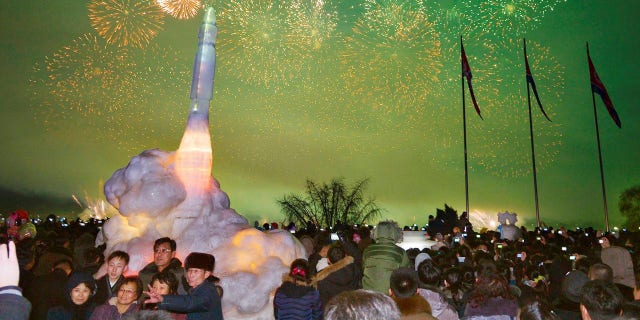 In his address Monday, Kim said the United States should be aware that his country's nuclear forces are now a reality, not a threat. He said he has a "nuclear button" on his office desk, warning that "the whole territory of the U.S. is within the range of our nuclear strike."
The dictator also touted about North Korea's historic feat of "completing" its nuclear forces.
The Associated Press contributed to this report.