South Korea imposes independent sanctions on Iran over suspected nuclear weapons program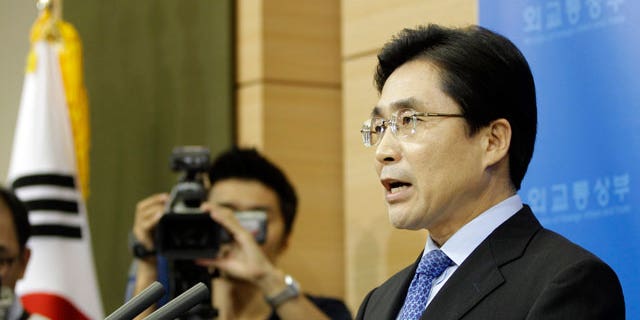 SEOUL, South Korea – SEOUL, South Korea (AP) — South Korea said it will ban many financial dealings with Iran and impose other penalties as part of a U.S.-led campaign to enforce sanctions against the country over its disputed nuclear enrichment program.
The measures announced Wednesday by Seoul add to new, unilateral sanctions imposed by the U.S., Europe and others to pressure Iran to return to negotiations on its nuclear program, which Tehran insists is peaceful but critics say is a quest to develop atomic weapons that could spark a Middle East arms race.
Seoul targeted 102 entities with the sanctions, including the Iranian Revolutionary Guard Corps and the Islamic Republic of Iran Shipping Lines plus 24 individuals , Foreign Ministry spokesman Kim Young-sun said Wednesday.
The measures prohibit foreign exchange transactions with the targets of the measures except with special authorization, and they also halt existing banking relations and prohibit the opening of new branches or representative offices in South Korea, Kim said. The targeted individuals are also banned from entering South Korea, Kim said.
South Korea will also heavily penalize the Seoul branch of Bank Mellat, one of the 15 targeted Iranian banks, for violating laws on foreign exchange transactions, a government statement said, without elaborating.
The Seoul branch of Bank Mellat has "facilitated hundreds of millions of dollars in transactions for Iranian nuclear, missile and defense entities," the statement said.
Kim said the sanctions further reinforce United Nations resolution 1929 against Iran, the latest in a series of measures taken by the international community in an effort to halt Iran's nuclear program.
"South Korea expects Iran to join international efforts for nuclear nonproliferation and take steps to faithfully implement its obligations under the relevant U.N. Security Council resolutions," he said.
The United States welcomed South Korea's decision.
"These actions strengthen the growing international resolve to prevent proliferation and Iran's development of nuclear weapons and to press Iran to return to serious negotiations on its nuclear program and meet its international obligations," U.S. Secretary of State Hillary Clinton and Treasury Secretary Timothy Geithner said in a joint statement.
The U.N. approved a fourth round of sanctions against Iran in early June over accusations that it is seeking to develop atomic weapons. Iran denies its nuclear program is militaristic in nature and says it has a right to conduct uranium enrichment for peaceful purposes.
The U.S. also independently imposed new sanctions against Iran and has urged other countries to follow suit.
So far, the European Union, Australia, Canada and Japan have joined the international campaign against Iran.
Seoul has been cautious in taking action against Iran, trying to balance its diplomatic interests with the U.S., a key ally, and its economic interests with Iran.
Iran is South Korea's third-largest trading partner in the Middle East, with two-way trade totaling nearly $10 billion last year, according to the Korea International Trade Association. It is also South Korea's fourth-biggest supplier of crude oil, accounting for 9.8 percent of its oil imports, according to the Korea National Oil Corp.
Seoul said it will prohibit new investments and contracts that could enrich Iran's petroleum and gas industry, and called on South Korean companies to exercise "restraint and caution" in carrying out existing contracts.
__
Associated Press writer Matthew Lee contributed to this report from Washington.