Skepticism abounds on Mexican president Peña Nieto's anti-crime plan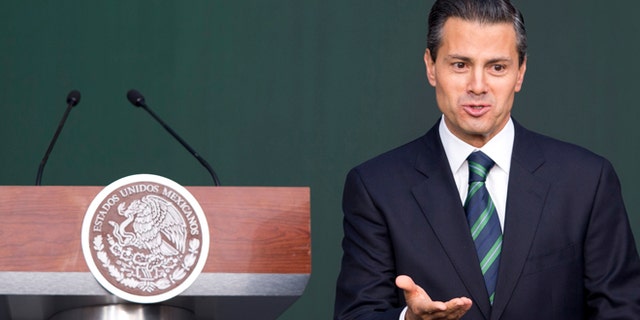 MEXICO CITY, Mexico – At the National Palace on Thursday, President Enrique Peña Nieto unveiled plans to curb crime and corruption and to promote the rule of law as social discontent deepens over the disappearance and likely death of 43 teachers college students.
Peña Nieto—who belongs to the Institutional Revolutionary Party (PRI), which held the presidency from 1929 to 2000—found inspiration for his ideas from an unlikely source: his National Action Party (PAN) predecessor as president, Felipe Calderón, whose administration was consumed by a crackdown on crime and drug cartels.
"Calderón must be jumping up and down," security analyst Alejandro Hope told Fox News Latino.
Much of what the president proposed, "has been proposed before," Hope noted, or presented previously to Congress by Calderón – only to be batted down by the PRI and others then in the opposition.
Security has been a subject the Peña Nieto administration seemingly preferred to avoid since he took office two years ago as he attempted to overhaul the international image of Mexican by promoting a pro-reform economic agenda.
But the gravity of the security situation has sent crime back to the top of the presidential agenda and, according to some observers, proved Calderón correct – even if his strategy was ineffective.
"Calderón at least played the script to the best of his ability," said Federico Estévez, political science professor at the Autonomous Technological Institute of Mexico. "It wasn't enough."
Peña Nieto's 10-point plan – accompanied by an economic development agenda for the impoverished southern states of Guerrero, Oaxaca and Chiapas – arrives amid outrage over the missing students, as well as continuing crime and corruption problems, and allegations of conflict of interest stemming from a mansion purchased by First Lady Angélica Rivera with credit provided by a prominent government contractor. (Peña Nieto denies any impropriety, while Rivera has said she will sell the mansion.)
Mass protests have popped up across Mexico, while citizens have called for the president's resignation on social media sites.
Peña Nieto expressed outrage over the crimes committed against the students and the security situation in the state of Guerrero, where the students attended school and disappeared, adopting the language of those calling for change.
"The cry: We are all Ayotzinapa" – which refers to the missing students' school – "is a call to continue transforming Mexico," Peña Nieto said to an audience of 800 political, business and social leaders. "As a society, we must have the ability to channel our pain and outrage into constructive proposals."
The president promised to promote legislation, which would allow for the dissolving of municipal governments that are considered to have been corrupted by organized crime – as allegedly occurred in Iguala, the city 120 miles south of Mexico City where the students were kidnapped by local police in late September and turned over to a criminal gang. The president's chief of staff, Aurelio Nuño, told foreign reporters a similar scheme was successfully implemented in Italy and used to confront organized crime in mafia-controlled municipalities.
The president's proposals also include placing all police forces under single commanders in each state, creating anti-corruption commissions, strengthening human rights in Mexico, establishing a national identification system and starting special security operations in the arid, somewhat lawless area southwest of Mexico City known as "Tierra Caliente," or "Hot Earth."
Peña Nieto announced a national 911 number, along with an initiative to pull the country's southern states – underdeveloped in comparison to the more industrialized north – out of poverty through investment and the creation of special economic development zones. Citizen commissions also would be established to include public participation and oversight of the overhauls.
"After Iguala, Mexico must change," Peña Nieto said. "We have to fulfill the essential function of a state: achieving security for its citizens and complete rule of law."
Rule of law has been absent in Mexico for much of its modern era as corruption became the "oil" of a patronage-based political system, says Ilán Semo, political historian at the Iberoamerican University in Mexico City.
"That (the president) would need a 'pact for legality' signifies a large part of the state is operating in illegality," he said. "Corruption is the rule. The challenge is making it the exception."
Analysts say the absence of the rule of law reduces the potentially positive impact of the reforms achieved by Peña Nieto in other areas such as energy, education and telecommunications.
"The (Peña Nieto) government is trying to make up for what it didn't do in the past two years, make the rule of law a priority," said security analyst Jorge Kawas. "That should have be the priority since all of the (president's) reform agenda is futile if today's dysfunctional state remains untouched."
Nuño, the chief of staff, says the Peña Nieto administration made security a top priority upon taking office, though the severity of the situation was more serious than previous thought.
"This agenda again has become the priority for the country," he said, while defending what the Peña Nieto has accomplished over the past two years. "There have been reforms approved that had not been achieved in 15 years."