Search called off for 4 Britons on 40-foot yacht missing in mid-Atlantic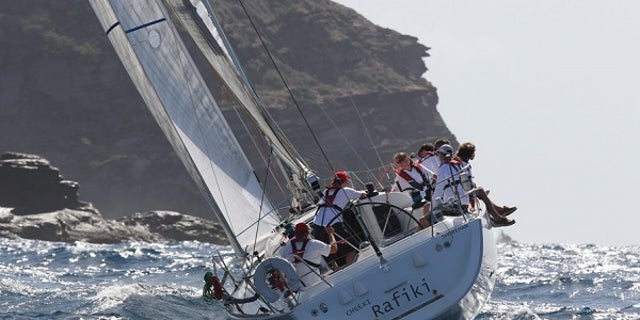 A search for four Britons missing in the Atlantic Ocean after their sailboat capsized some 1,000 miles east of Cape Cod last Thursday was called off on Monday, officials say.
The crew of the Cheeki Rafiki was returning from Antigua Sailing Week in the Caribbean when the 40-foot vessel started taking on water amid poor weather conditions on Thursday. UK charter company Stormforce Coaching said it was "devastated" that the search ended without locating the four sailors.
"We remain devastated that … Andrew, James, Paul and Steve have still not been found and that the U.S. Coast Guard has suspended the search," Doug Innes, Stormforce's director, said in a statement obtained by FoxNews.com. "We remain hopeful that they are in the life raft, although conditions have been poor in the Atlantic, which would be very challenging for them."
[pullquote]
The four crew members were identified by The Royal Yachting Association as Andrew Bridge, 21; Paul Goslin, 56; Steve Warren, 52; and 23-year-old James Male. All four were described as "very experienced offshore yachtsmen," according to the group.
U.S. Coast Guard Capt. Anthony Popiel, chief of response for the 1st Coast Guard District, said the international search was called off early Monday after more than two days of efforts.
"Despite the deep considerations that go into suspending a search, the decision is never easy," Popiel said in a statement. "With sincere compassion for the families of these four men, our thoughts and prayers are with them all during this difficult time."
Locator beacons activated by the crew indicated the ship was 1,000 miles east of Massachusetts early Friday, amid 15-foot seas and winds surpassing 50 knots. The air temperature was 59 degrees and the water was 60 degrees, Popiel said.
Based on those conditions, and assuming that best-case emergency equipment was utilized, the Coast Guard estimated they could not have survived more than 20 hours beyond the initial distress call. Crews from North Carolina, Georgia and Canada spent 53 hours searching an area of more than 4,000 square miles. At least one commercial liner, the 1,000-foot Maersk Kure, also took part in those efforts and located an overturned hull that matched the description of the Cheeki Rafiki, but found no sign of the sailors.
"Air and sea crews continued to search throughout the afternoon and night and into the next morning for any small indication of debris or search objects," Popiel said in a statement. "After more than two days of searching and no indication of surviving crew members, the U.S. Coast Guard made the difficult decision to suspend search efforts."
Royal Yachting Association organizers did not return messages seeking comment early Monday, but Craig Burton, the organization's chief cruising instructor, told BBC News that there was "always a hope" that the sailors would be found alive.
"Understandably, the family and friends of all those on board want the search to continue," Burton said. "[But] rescue organizations don't take that decision lightly ... they don't easily call off or postpone a search."