S. Africa marks 18 years since Mandela's rugby victory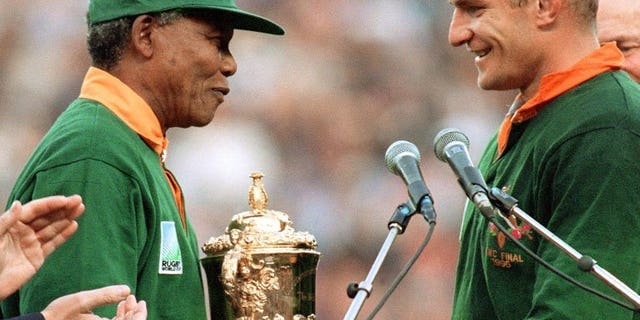 JOHANNESBURG (AFP) – With Nelson Mandela critically ill in hospital, South Africans on Monday remembered the day exactly 18 years ago when their rugby team won the World Cup and Mandela won over the nation.
The pass zipped towards Joel Stransky, who took a step, drew back his right leg, put his head down and sent the ball sailing high through the Johannesburg sky.
Moments later to a visceral roar from the capacity 62,000 Ellis Park crowd, the ball hurtled between the posts.
After decades of international sporting isolation, South Africa had won the rugby world cup for the first time, in extra time.
It was an emotionally overwhelming moment for millions of rugby-loving South Africans, but what happened next would electrify the world.
Amid clusters of celebrating Springboks and distraught New Zealand All Blacks, onto the Ellis Park pitch walked then president Nelson Mandela.
His confident stride and beaming smile belied the raw drama of the moment.
This was a joyous crowd, but it was also one that overwhelmingly represented white South Africa, spectators who feared for their way of life as the edifice of systemic white privilege fell around them.
It was barely a year after Mandela became the African nation's first black president and many in the crowd still considered him a terrorist.
This was a man who, quite aside from embodying threats against their way of life, helped orchestrate a decades-long international boycott of their beloved Springboks.
But Mandela was determined to turn rugby, once used by the ANC as a tool to bludgeon supporters of the racist government with boycotts, into a potent weapon to promote national unity and racial reconciliation.
The crowd -- and millions of black South Africans looking on -- held their breath in shock as former prisoner number 46664 took to the field clad in Springboks' green and gold buttoned up to the neck.
The jersey was seen then as little more than a sartorial accompaniment to apartheid.
But the crowd and the country was wooed.
As Mandela prepared to hand the gleaming Webb Ellis Cup over to Springbok captain Francois Pienaar, cries of "Nelson, Nelson" rang around the stadium.
"Francois, thank you for what you have done for our country," Mandela said.
"No, Mr President. Thank you for what you have done," Pienaar replied.
With many onlookers in tears, Pienaar lifted the trophy to another almighty roar.
The reaction of the crowd surprised even Mandela.
"I went around the stadium, I didn't expect such an ovation," Mandela recalled later.
If the reaction of the crowd surprised Mandela, then the reaction of the country astounded everyone.
"For the first time all the people had come together and all races and religions were hugging each other. It was just wonderful," Springbok captain Pienaar later remembered.
For Mandela the political gamble had paid off.
"The cumulative effect was to allay the fears of the whites and also, by the way, of the blacks," Mandela recalled.
"There were many who said, 'well this old man is selling out' and who booed me when I said 'let us now support rugby, let's regard these boys as our boys.'"
Eighteen years later racial tensions still run through Mandela's "Rainbow Nation," but widespread racial violence has been avoided.
Perhaps only die-hard rugby fans will recall the game's 15-12 scoreline, but the memory of Mandela's victory lives on.
For those who were too young to experience the day itself, events have been frozen in time thanks to hit film "Invictus".
On Monday the footage was broadcast repeatedly on national television as radio stations fielded calls from listeners remembering where they were on that day.
One caller was that other hero of the day, Joel Stransky.
"I think we will always remember it fondly," Stransky told 576 CapeTalk. "But sadly today... it's a little bit different."
"Obviously Madiba is very ill and in a critical condition. He was such an integral part of that period and that time and made it so special for all of us."