Russian spacecraft carrying Russian, Italian and American blasts off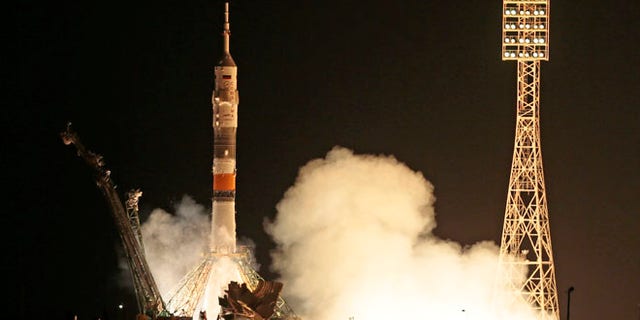 MOSCOW – A Soyuz carrying an American, Russian and Italian blasted off Wednesday for a six-hour trip to the International Space Station, where the new crew will spend six months conducting a variety of experiments.
The Russian spacecraft lifted off at 2:31 a.m. (2031GMT, 4:31 p.m. EDT Tuesday) from the Baikonur Cosmodrome, which Russia leases in Kazakhstan. Live footage provided by NASA TV showed it soaring into the clear night sky. About four minutes later, the announcer said the Soyuz was traveling at 4,700 miles per hour (about 7,500 kilometers per hour).
The cramped capsule carrying NASA's Karen Nyberg, Russian cosmonaut Fyodor Yurchikhin and Italy's Luca Parmitano will orbit the Earth four times before docking with the space station less than six hours after liftoff.
They will join three other people -- NASA's Chris Cassidy and Russians Pavel Vinogradov and Alexander Misurkin -- who have been aboard the station since late March.
Yurchikhin, 54, is a veteran of three previous spaceflights, while 36-year-old Parmitano, a former test pilot, is making his first trip into space. Nyberg, 43, spent two weeks in space in 2008 as part of a U.S. space shuttle crew.
Four spacewalks are planned during the expedition, including what NASA said would be the first by an Italian.
The International Space Station is the biggest orbiting outpost ever built and can sometimes be seen from Earth with the naked eye. It consists of more than a dozen modules built by the United States, Russia, Canada, Japan and the European Space Agency.