Russian airline says 'external impact' brought down plane in Egypt's Sinai Peninsula
A Russian passenger plane that crashed in Egypt's volatile Sinai Peninsula shortly after takeoff over the weekend could only have been brought down by an "external impact," a top official at the airline said Monday, drawing criticism from Russian officials who described his comments as premature.
Alexander Smirnov, the deputy general director of Metrojet, also told reporters that the cause of Saturday's crash, which killed all 224 on board, "could only have been a mechanical impact on the plane" in the air. He added that the Airbus A321-200 dropped 186 mph in speed and about 5,000 feet in altitude one minute before impact.
"We rule out a technical fault of the plane or a pilot error," Smirnov said Monday in Moscow. "The only possible explanation could be an external impact on the airplane."
But when pressed for more details about the type of impact and what could have caused it, Smirnov insisted that he was not at liberty to discuss details because the investigation was ongoing. He also did not explain whether he meant something had hit the plane or that some external factor had caused the crash.
Russian aviation authorities were quick to chide the company for jumping the gun on the investigation, calling its comments premature.
Asked about Metrojet's claim of an external impact, the head of the Russian aviation agency, Alexander Neradko, decried Metrojet's comments as "premature and not based on any real facts." He urged aviation experts "to refrain from drawing conclusions" at this stage of the probe.
Neradko, who spoke to Russian television in Cairo, insisted it would be possible to draw firm conclusions about the crash only after experts have studied the scattered fragments of the plane in Sinai and the content of its black boxes.
James Clapper, the U.S. Director of National Intelligence, said Monday that it was unlikely that ISIS has the ability to shoot down an airliner, but he wouldn't rule out the possibility.
Clapper told reporters that "we don't have any direct evidence of any terrorist involvement yet."
The airline's statements come after Egyptian officials had backed off their initial insistence that the plane went down due to mechanical failure, with the country's president, Abdel Fattah el-Sissi, saying that "an extensive and complicated technical study" was needed.
"It's very important that this issue is left alone and its causes are not speculated on," el-Sissi told a gathering of top government officials, members of the military and security forces Sunday. The investigation "will take a long time" and "needs very advanced technologies," he added.
We don't have any direct evidence of any terrorist involvement yet
Hours after the crash, an Egyptian affiliate of the Islamic State terror group claimed it brought down the aircraft, which crashed in the same general area of northern Sinai where the Egyptian military and security forces have battled militants for years.
The claim, in a statement posted on social media, provided no supporting evidence. The militants are not known to be capable of downing an aircraft at cruising altitude, although there have been persistent media reports that they have acquired Russian shoulder-fired, anti-aircraft missiles that are effective against low-flying warplanes or helicopters.
The crash occurred 23 minutes after the plane took off from the Egyptian Red Sea resort of Sharm el-Sheikh en route to St. Petersburg. Russian officials say it broke up at high altitude, scattering fragments of wreckage and bodies over a wide area.
At the crash site in Sinai, emergency workers and aviation experts from Russia and Egypt swept across the barren terrain Monday, searching for more victims and examining the debris for more clues as to the cause of the crash.
Teams finished combing a 7.7-square mile area for bodies by the afternoon and expanded their search to a 11.6 square mile area. Emergency Situations Minister Vladimir Puchkov promised they will not rest until all the remains of the victims are found.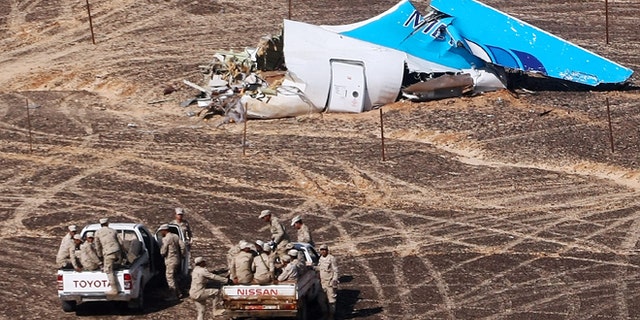 Russia has sent over 100 emergency workers to Egypt to help with the investigation, and aviation teams from France, Germany and Airbus are also working in Egypt.
An Egyptian ground service official who carried out a preflight inspection of the plane said the aircraft appeared to be in good shape. Speaking on condition of anonymity because he was not authorized to talk to the media, he said he was a member of a technical inspection team that included two Russians.
"We are all shocked. It was a good plane. Everything checked out in 35 minutes," the official told The Associated Press on Sunday. The closest the plane came to being in trouble, he said, was three months ago when the pilot aborted takeoff halfway through because of a system error. "That's almost routine though," he said.
Viktor Yung, another deputy director general of Metrojet, said the crew did not send a distress call and they did not contact traffic controllers before the crash. His comments directly contradicted those of an Egyptian official, who said previously the pilot radioed that the plane was experiencing technical problems and he intended to try to land at the nearest airport.
An official at the Sharm el-Sheikh airport said Monday that he stands by the report that air traffic control there had told him they received a distress call from the plane. The official spoke to The Associated Press on condition of anonymity because he was not authorized to talk to the media.
However, the Telegraph quoted Egypt's civil aviation minister Hossam Khamal as saying that there had been no sign of any problems with the plane. "Up until the crash happened, we were never informed of any faults in the plane, nor did we receive any SOS calls," Khamal said, later adding that communication between the plane and air traffic control had been normal and pre-flight checks had not turned up any problems.
Most airline accidents occur in the early or late stages of a flight, around takeoff or landing, according to Todd Curtis, a former safety engineer with Boeing.
"Once you're in cruise, many of the risks that exist at lower altitudes, from bird strikes to running into things, don't happen," said Curtis, who is now director of the Airsafe.com Foundation. "And ultimately, when you have a problem in cruise, you typically have time to fix it."
When planes do break up in midair it's usually because of one of three factors: a catastrophic weather event, a midair collision or an external threat, such as a bomb or a missile.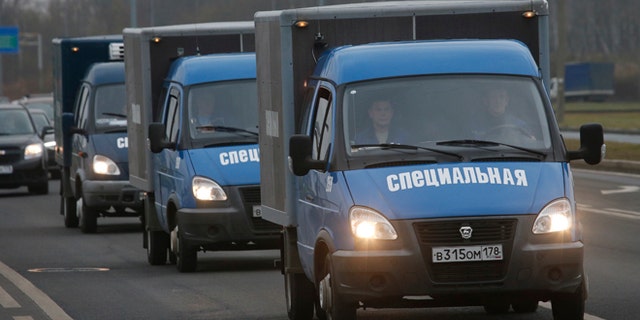 With no indication that those events played a role in the crash, Curtis said investigators will be looking at more unusual events, such as an on-board fire or corrosion that caused a structural failure.
The flight recorders will provide key information, including the plane's airspeed and whether it was on autopilot.
"The good news is with the recorders in hand, both the French and Russian investigators should have a good idea in very short time what did occur," said Jim Hall, former chairman of the U.S. National Transportation Safety Board.Meanwhile, the bodies of some of the victims arrived at St. Petersburg's Pulkovo airport early on Monday morning. Russian news agencies say the government will be dispatching a second plane to bring back more remains later on Monday, which has been declared a nationwide day of mourning.
The government plane carried in 130 bodies and 40 body parts that were whisked off to a city morgue and a crematorium, where Russian forensic experts immediately began working to try to identify the victims. Family members of crash victims have already given DNA samples to speed the process.
Hundreds of mourners brought flowers, pictures of the victims, stuffed animals and paper planes to the airport. Others went to churches and lit candles in memory of the dead.
The Associated Press contributed to this report.