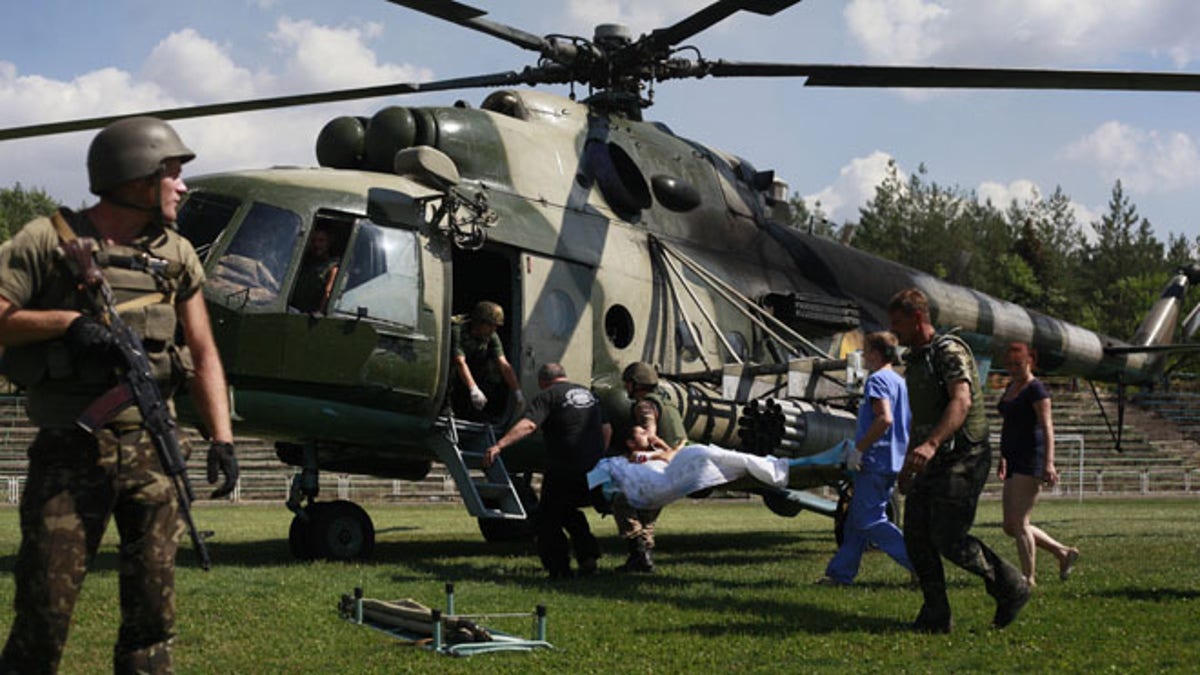 Trucks marked as being from a bitterly disputed Russian aid convoy to Ukraine began returning to Russia on Saturday.
An Associated Press reporter counted 67 trucks entering the border crossing in the Russian city of Donetsk before noon Saturday. Another AP reporter on the Ukrainian side of the border said a line of trucks about 2 miles long was waiting to cross. The checkpoint on the Ukrainian side was being operated by separatist rebels, who inspected the trucks.
Around 40 of the tractor-trailer trucks seen by journalists on the Ukrainian were empty, but it could not be determined if any others were carrying cargo.
One driver who declined to give his name said the entire convoy of about 260 was expected to return Saturday to Russia. The state news agency RIA Novosti cited the Russian customs service as saying the trucks would move in six groups.
The convoy drove Friday into Ukraine bound for Luhansk, a city in eastern Ukraine hard-hit by weeks of fighting between Ukrainian forces and pro-Russian rebels. The Ukrainian government and Western countries denounced the move as a violation of Ukraine's sovereignty and accused Russia of using the convoy to smuggle supplies and reinforcements to rebel fighters.
Russia said the white-tarped trucks were carrying food, water, generators and sleeping bags. Some trucks were opened to reporters a few days ago, and at least some of those items could be seen.
In a separate development, NATO said it has mounting evidence that Russian troops are operating inside Ukraine and launching artillery attacks from Ukrainian soil -- deeper involvement in the fighting than the West has previously alleged. Russia also rejected that accusation.
It remained unclear Saturday what the Russian convoy had actually delivered. Unloading hundreds of trucks in less than a day in a war-battered region represents a sizeable task. AP journalists who followed the convoy to Luhansk on Friday said rattling sounds from some trailers indicated they were not fully loaded.
The convoy's entry caused Russia-Ukraine tensions to spike. The convoy had languished on the border for nearly two weeks amid disputes about over whether Ukraine would permit it entry or whether all sides in the conflict would provide security guarantees sought by the Red Cross.
Russia sent the trucks in Friday, saying it had lost patience and Luhansk was on the edge of a humanitarian catastrophe. Ukraine condemned it as a "direct invasion."
At the United Nations in New York, Russian Ambassador Vitaly Churkin rejected accusations that Russian troops were inside Ukraine. Russia has also steadfastly denied supporting and arming the rebels.
The fighting in eastern Ukraine began in mid-April, a month after Russia annexed Ukraine's Crimean peninsula. The United Nations says more than 2,000 people have been killed and 340,000 forced to flee their homes during the fighting.