Russia says it will keep selling weapons to Syria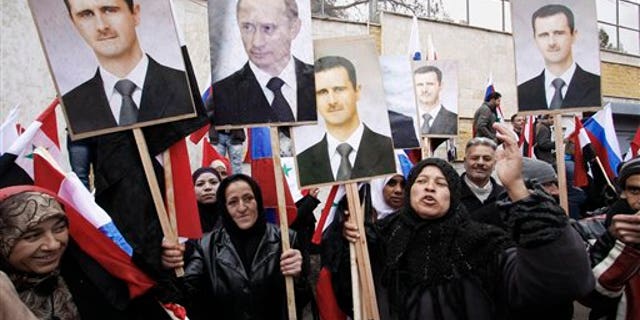 MOSCOW – Russia and the United States have failed to narrow their differences over a planned U.S. missile shield and stand practically no chance of reaching a compromise at the NATO summit in Chicago in May, a top Russian official said Tuesday.
Deputy Defense Minister Anatoly Antonov said Washington is going ahead with its plans for a missile shield in Europe without considering Russian concerns.
The U.S. says the NATO missile shield is aimed at deflecting potential missile threats from Iran, but Moscow fears that it will eventually grow powerful enough to undermine Russia's nuclear deterrent.
"I think it would be very difficult to achieve any success at the summit," Antonov said. "As of today, there is no document for the leaders to approve."
NATO has said it wants to cooperate with Russia on the missile shield. But it has rejected Russia's proposal to run the shield jointly.
Without a NATO-Russia cooperation deal, President Dmitry Medvedev has sought guarantees from the U.S. that any future shield is not aimed at Russia. He has threatened to aim missiles at the U.S. shield if no agreement is reached.
Antonov said any moves "will depend entirely on how the U.S. implements its plans."
"If it conducts the policy of presenting us with a fait accompli, that doesn't show trust and respect for us as partners," Antonov said.
He wouldn't say whether president-elect Vladimir Putin would participate in the NATO summit beginning May 20 after attending the Group of Eight leading industrialized nations summit at Camp David.
"We still need to do a lot with our American friends and NATO colleagues to reach common ground and put it on paper," he said. "I think it will require more time than there is ahead of the summit."
Antonov said he was skeptical about media reports that the U.S. could try to assuage Moscow's concern about the missile shield by sharing confidential technical data, saying U.S. laws would bar the transfer of such data to Russia.
But, he said Russia would consider such offers if they are made.
Antonov added that an earlier U.S. proposal for cooperation in military technologies hasn't brought any results. "A legal basis is needed for the exchange of sensitive information," he said.