Roger Waters tells Richard Branson to 'back off' over Venezuela in bizarre dispute over benefit concert
Pink Floyd rocker Roger Waters has warned Richard Branson to "back off" over efforts to raise money for humanitarian aid in Venezuela with a Live Aid-style concert, telling the entrepreneur that it has "nothing to do with their needs."
Waters' pointed criticism at his countryman comes as Branson, founder of the Virgin Group, says he is hoping to raise $100 million on Friday for people suffering in the South American country, which is currently undergoing a leadership and economic crisis with the regime of disputed President Nicolas Maduro clinging on to power.
"Even if you listen to their shtick, it has nothing to do with humanitarian aid at all. It has to do with Richard Branson – and I'm not surprised by this – having bought the U.S. saying, 'We have decided to take over Venezuela, for whatever our reasons may be,'" Waters says in a video posted to his social media accounts.
"But it has nothing to do with the needs of the Venezuelan people, it has nothing to do with democracy, it has nothing to do with freedom, and it has nothing to do with aid," he added.
FEDS AUCTION OFF PRIZED HORSES OF EX-VENEZUELA TREASURER WHO GOT RICH AS SOCIALIST COUNTRY CRUMBLED
DEADLY CRACKDOWN STOKES FEAR AMONG PROTESTERS IN VENEZUELA
The U.S. government has been vocal in recent weeks in their backing of opposition leader Juan Guaido, whom, like other countries, they view as Venezuela's legitimate leader following growing political turmoil there.
The diplomatic tug-of-war ongoing in Venezuela though has sparked widespread protests, violence and outcries from human rights groups. Yet Waters, bizarrely, says in his video that there is "no mayhem" going on.
"I have friends who are in Caracas right now," he says. "There is, so far, no civil war, no mayhem, no murder, no apparent dictatorship, no mass imprisonment of opposition, no suppression of the press, none of that is going on even though that is the narrative that is being sold to the rest of us."
"I have friends who are in Caracas right now. There is, so far, no civil war, no mayhem, no murder, no apparent dictatorship, no mass imprisonment of opposition, no suppression of the press, none of that is going on even though that is the narrative that is being sold to the rest of us."
Waters concludes that "we just need to back off – particularly Richard Branson."
Up to 300,000 people are expected to attend Friday's concert featuring Spanish-French singer Manu Chao, Mexican band Mana, Spanish singer-songwriter Alejandro Sanz and Dominican artist Juan Luis Guerra, according to the Associated Press. The concert is being held in Cucuta, a city of some 700,000 people across the border in Colombia that has been swollen by hundreds of thousands of Venezuelans who have fled hardships in their homeland.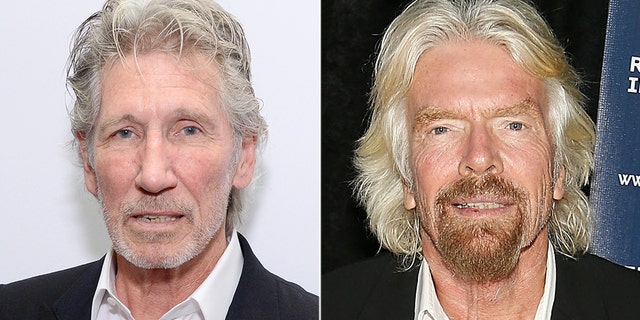 FATE OF AMERICAN CITGO EXECUTIVES HELD IN VENEZUELA UP IN THE AIR AS MADURO'S REGIME PLUNGES DEEPER INTO CRISIS
Branson told the Associated Press in an interview earlier this week that the event is not funded by any government and that all the artists are performing for free. The plan is to raise donations from viewers watching the concert on a livestream over the Internet.
"Venezuela sadly has not become the utopia that the current administration of Venezuela or the past administration were hoping for, and that has resulted in a lot of people literally dying from lack of medical help," Branson said. "I think it will draw attention to the problem on a global basis."
A spokesperson from Virgin has also hit back at Waters' accusations.
"Richard is helping them to raise awareness of the crisis in Venezuela and raise much-needed funds through this event," the spokesperson said in a message provided to Reuters. "This is not a political statement and the U.S. is not involved in any aspect of this."
Despite Venezuela's ongoing crises, their government has announced they have arranged a counter-concert Saturday and Sunday on Venezuela's side of the border opposite the Branson-backed event.
US-BACKED VENEZUELAN OPPOSITION LEADER DECLARES HIMSELF INTERIM PRESIDENT
Stepping up the standoff, Information Minister Jorge Rodriguez also promised to deliver 20,000 boxes of government-subsidized food to the poor in Cucuta, where tons of aid from the United States is now sitting earmarked for struggling Venezuelans.
Maduro has repeatedly vowed not to let the U.S. aid enter Venezuela, and he announced on state television Monday evening that his government would import 300 tons of aid from Russia that he said will arrive soon. He said Venezuela paid for the Russian goods and isn't a country of beggars.
Branson though says he hopes that Venezuela's armed forces, until now loyal to Maduro, will allow the aid to reach Venezuelans.
"We want to make it a joyous occasion," Branson said. "And we're hoping that sense prevails and that the military allows the bridge to be open so that much-needed supplies can be sent across.
"If they (Venezuelan troops) stop the aid coming through and there are pictures of hundreds of thousands of people wanting to come through from both sides, that will send out a potent message, a very powerful message to Venezuela, to everybody, that there is aid that is trying to get across, but the army is stopping it," he said. "That hopefully will mean that Juan Guaido and his people will have a better chance to have another election where sense can prevail."
Meanwhile, Guaido said the move by Maduro's government to put on a rival concert was "desperate."
"They're debating whether the aid should come in or not ... They don't know what to do," Guaido said Monday. "They're now making up a concert. How many concerts are they going to stage?"
Waters is no stranger to controversy. He is an outspoken critic of President Trump and Israel. In 2016, during a concert, he included a series of anti-Trump images and slogans, including "F--- Trump and his wall", while also voicing his support for the BDS Movement (boycott, divestment and sanctions against Israel), urging solidarity for Palestinians.
The Associated Press contributed to this report.