Rescued passengers from stranded Antarctic ship arrive on dry land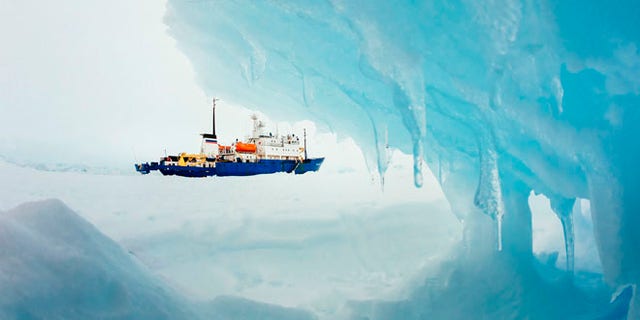 NEWYou can now listen to Fox News articles!
An expedition of 52 scientists and tourists arrived in Australia on Wednesday, setting foot on dry land for the first time since they were rescued from a ship trapped in Antarctic sea ice three weeks ago.
Arguments continue on who will foot the bill for the extraordinary rescue operation that involved the United States, China, France and Australia.
Expedition leader Chris Turney told reporters who greeted them in the port city of Hobart where they ended the final leg of their rescue journey aboard an Australian icebreaker that it was still not clear who would pay for their rescue.
Turney, a professor of climate change at Sydney's University of New South Wales, said lawyers and insurers were negotiating on the costs.
"I understand four nations helping is quite unusual. That's not our call .... that's beyond our control," Turney said.
"We're incredibly grateful to everyone who's come out to help us, we're terribly sorry for any impact that might have had on fellow colleagues whose work had been delayed by the operation, but any experienced Antarctic scientist knows that's an inherent risk" in working in Antarctica, he said.
Turney's expedition had been retracing an expedition a century ago by Australian explorer Douglas Mawson and comparing scientific measurement made then and now when their Russian icebreaker Akademik Shokalskiy became trapped in ice-clogged Commonwealth Bay on Christmas Eve.
Australian, French and Chinese icebreakers were directed by Australia's Rescue Coordination Centre to come to their rescue.
A helicopter from the Chinese icebreaker was able to ferry the passengers from the Russian ship to the Australian icebreaker Aurora Australis on Jan. 2. The following day, the Chinese ship reported it too was stuck in ice.
U.S. Coast Guard heavy icebreaker, Polar Star, was sent from Sydney to rescue the Russian and Chinese ships, but both icebreakers were able to free themselves before the American cutter arrived.
The Australian ship continued its resupplying mission to Australia's Antarctic base, Casey Station, before returning to its home port, Hobart.